24 photographic mini-stories of animals that melt the heart with tenderness
1. Kiwi and Goth from being engaged became the mom and dad of four, colorful baby parrots!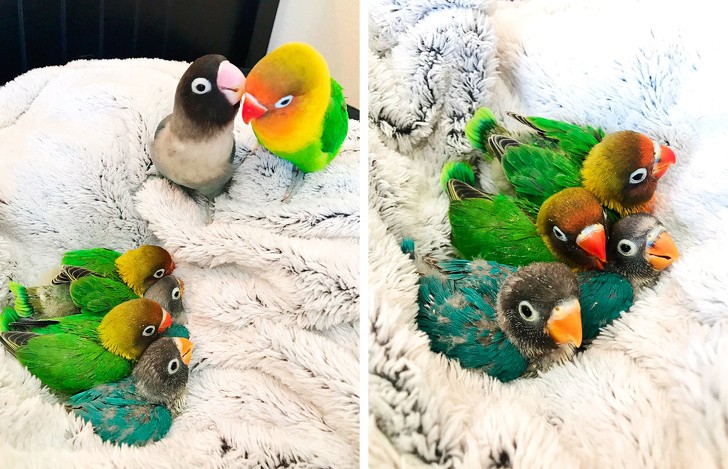 2. Irresistible attention-seeking distractions
3. Be adamant in your refusal, without losing an ounce of sympathy - on the contrary, gaining more respect!
4. Stretching lessons from a hedgehog to perform in the morning when you wake up ...
5 Quite impressive, lady! Multiple birth?
6. When you get bored on the train and start looking around to spy on what others are doing!
7. Three big hugs for a new friend!
9. The author of this photo found them on his arrival at the Airbnb he had booked, and he extended his stay for a week ... would you have done the same?
10. The safest hiding places are obviously the ones that are hard to imagine!
11. The ideal workplace
12. The species Pudù are the smallest deer in the world, and they are also the cutest!
13. The first time at the lake for this puppy and the first time wearing a life saver jacket!
14. To be tired and just sprawl on your stomach on the first soft surface you can find!
15. A 16-year-old friendship that is still going strong!
16. Effects of a trampoline on a fun-loving little dog
17. Which Winnie The Pooh is cuter?
18. This kitten only allowed one person to caress him, the one who eventually adopted him. If a cat chooses you, you have found your Nirvana!
19. It is not a stuffed animal toy, but a real 12-week-old Saint Bernard puppy!
20. German Shepherd + Golden Retriever = a furry ball of love
21. Nautical flight lessons
22. Dog and mistress have the same "birthmark" moles!
23. When you have love literally oozing out of your pores, you cannot help but greet all the dogs that you meet with a loving lick!
24. When reality surpasses fantasy ...