30 children without whom their parents would be bored to death!
The girls wanted to stay up all night ...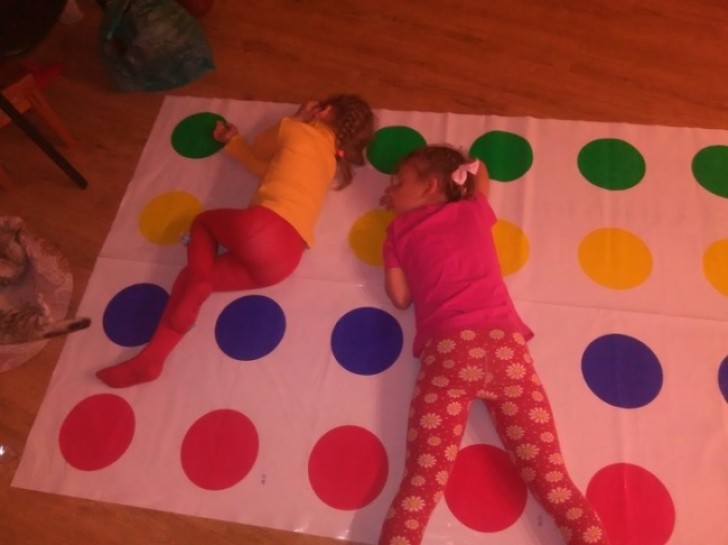 My husband enjoyed our daughter's first roller coaster ride, much more than she did!
My daughter when she realized that to ride a bike she needed to practice!
"Father, I'm your daughter" --- a meaningful message on a birthday card.
My son feeds his imaginary goldfish while his real dog is sitting outside.
"My son takes his superhero role very seriously."
"I told my son to go play outside ..."
"We bought a new dog bed for our dog and she was afraid that the cats would steal it from her."
"My daughter called me a liar when I told her it was a telephone."
"My sister just received the professional photos she had taken of her daughter's basketball game!"
"My daughter is convinced that the girl in the frame is her. P. S. --- The boy kissing himself in the mirror is my son!"
"We were at the vet's and my son told the doctor that his dinosaur was also not feeling very well! So we had it x-rayed ..."
"I caught my son watching cartoons at 3 am! He did not expect to be discovered."
Nothing strange ... Just a child walking his dog while wearing his space suit.
"Here's how to make kids behave when you go shopping!"
It is he who teaches the moves to the Power Rangers.
"I came out of a store and found a child lying on the ground without moving! I asked what had happened to him and his father replied that his son was just fed up that his gloves that were constantly sticking to his jacket.
"My son wore this raincoat while visiting a farm, and a peacock took it as a challenge."
When sleep calls, we must answer.
"The uncle told his nephew that the statue was falling on him, then he took the picture!"
An expert at the game of hide-and-seek!
Jackpot!
"I told my daughter to feed the cat."
"Ugh, it's Monday again ..."
Just five minutes more ...
"My son definitely takes after me ... "
"My cousin posted a picture of his son --- look how proud he is to have placed carrots on almost all the kitchen drawer handles!"
Mission complete.
Here's how to grow up with pets.
"When I was 8 years old --- I made this cup for my father."