See 29 places abandoned by humankind with their striking and mysterious beauty!
1. The Christ of the Abyss in San Fruttuoso (Italy)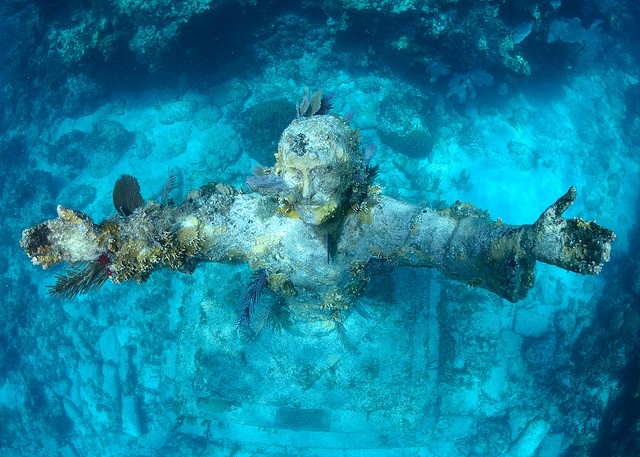 2. The city of Kolmanskop in the Namib Desert
3. The abandoned village of Dome Houses in Southwest Florida
4. The ship SS AyrField in Homebush Bay (Australia)
5. An abandoned amusement park in Bejing (China)
6. The Beelitz-Heilstätten Hospital in Germany
7. Holland Island in the Chesapeake Bay (USA)
8. An abandoned estate in Daru, Ireland
9. The city of Prypiat in Ukraine
10. A 15th century Monastery in the Black Forest (Germany)
11. The Kalavantin Durg Fort in Panvel (India)
12. The remains of the plane Pegasus in McMurdo Sound (Antarctica)
13. The Temple of Angkor Wat in Cambodia
14. The Maritime Fortress in Maunsell, England
15. The Bodiam Castle in Sussex (England)
16. An abandoned train depot in Czestochowa (Poland)
17. The sunken Brazilian research vessel Mar Sem Fim ("Endless Sea") in Antarctica
18. An abandoned distillery in Barbados (West Indies)
19. The bobsleigh track of the 1984 Winter Olympics in Sarajevo
20. The city of Craco in Matera (Italy)
21. A military rocket factory in Russia
22. An abandoned mill in Sorrento (Italy)
23. The cooling tower of an abandoned nuclear power plant in Monceau-sur-Sambre, Belgium.
24. The deserted headquarters of the Bulgarian Communist Party
25. The abandoned city of Keelung in Taiwan
26.The abandoned North Brother Island near New York
27. The closed and abandoned Hotel del Salto in Colombia
28. The deserted Six Flags playground in New Orleans which was closed and abandoned following Hurricane Katrina.
29. Michigan Central Station in Detroit (Update: It was reopened on 13 September 2017!)