This island is so small that it can only accommodate a house and a single tree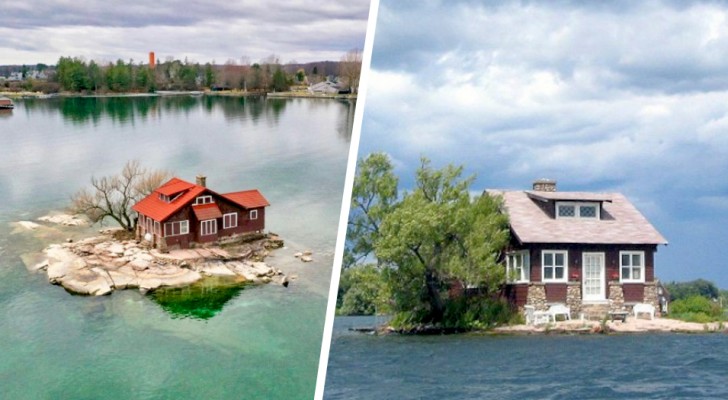 Advertisement
If the tourists and visitors who flock to the great metropolis of New York every year know by heart the beauties and curiosities that make the island of Manhattan famous, we are sure that not many know the history of the smallest inhabited island in the world: its size is comparable to that of a regular tennis court, there is only one house on it, a few shrubs, a single tree and it can only be reached through a system of small boats on request.
via The Telegraph
Advertisement
It's called Just Enough Room Island and is located just outside the town of Alexandria Bay, in the state of New York; this tiny islet is so small that it can host only one cottage on its land, some shrubs and a tree that stands above the house; before the 1950s this record island had the name of Hub Island but was then bought by the wealthy Sizeland family to build a private vacation spot. Too bad that that oasis of peace soon became a nightmare for the wealthy family, as word spread about the island with only one house located in Alexandria Bay, so that everyone wanted to go up the St. Lawrence River by boat to reach it and turn it into a local tourist attraction.
Just Enough Room Island did not officially become the smallest inhabited island in the world until 1982, when the previous record was dropped by Bishop Rock located in the Isles of Scilly, which is administrative property of Cornwall; before 1982 this English islet was considered the smallest inhabited island on planet Earth, but then the lighthouse was automated and no longer needed permanent custodians on thetiny island to make it work.
Advertisement
This fascinating piece of land located in the Thousand Islands archipelago on the St. Lawrence River that crosses the state of New York and the border with Canada, is considered to all intents and purposes a real islet by virtue of a simple criterion: to be considered an island, it must meet the rule that its mainland is above the water level throughout the year and there has to be at least one tree: details that the Just Enough Room Island satisfies perfectly!
Most of the islands and islets that make up the Thoudand Islands archipelago cannot be reached by tourists except by organized boat trips; after all, now everyone is very curious and wants to take an unforgettable photo on the shores of the smallest inhabited island in the world: would you ever live in such a place?