Baby girl is born on the same day as her mom and dad were: "an incredible coincidence"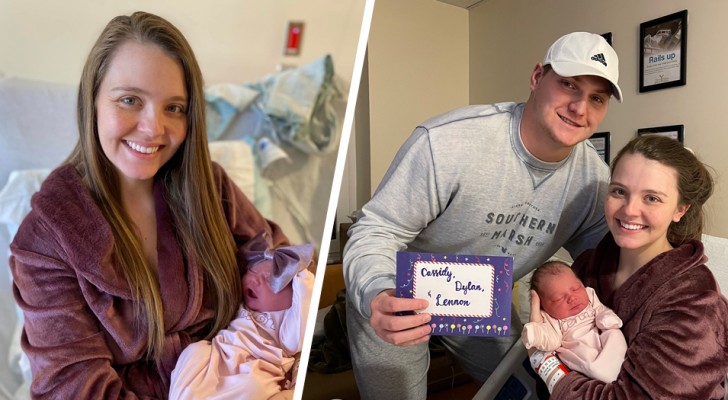 Advertisement
Sometimes, life manages to amaze us with coincidences and events so striking that we could almost believe they are not real. For some, luck or coincidences don't really exist and they label events like this as fate or some form of predestination.
The American couple we are about to tell you about is very familiar with the concept of "coincidence" and has become famous on the web for this very reason. When the two gave birth to their first daughter, their family members were completely stunned. The reason? Let's find out together:
via NPR.org
Advertisement
When Cassidy and Dylan Scott met, they didn't know they shared a very special day: their date of birth. That's right, the two found out that they were born on same day, i.e. December 18th.
This was a cute coincidence that certainly doesn't happen to many couples, but which for these two young people was a great reason to become romantically involved.
After a few years spent together, the couple was delighted to discover Cassidy was pregnant: she was expecting a baby girl. However, the little girl was about to give her parents - and not only them - an incredible surprise, which thrilled and amazed many people.
No one thought it was possible, but Lennon - the name of their daughter - came into the world on a very special day and date, namely December 18, 2022! The announcement was at the Huntsville Hospital for Women and Children, in a statement which underlines all the extraordinary nature of the event.
Lennon was born on the same day as her mother and father. An extraordinary coincidence, whose probabilities have even been calculated: 1 in 133,000. Little Lennon was born under a lucky star, and it certainly made the date of December 18th even more memorable for the Scott family!
Reading the story, there were many users who congratulated the young parents and their little girl, recounting similar coincidences they had experienced firsthand. After all, celebrating multiple birthdays on the same day in a family is truly a special thing.
We congratulate this wonderful family, and hope that little Lennon will have many other memorable events in her life.
Do you know similar stories?