Her skin is so incredibly dark that she has been nicknamed the "Queen of Dark"
As the world seems to continue to have problems with the skin color that someone is born with, in the world of fashion, this majestic African beauty has been celebrated and exalted for decades. 
Especially in recent years, since the demand to see more and more variegated female models of beauty closer to reality has also given more space to the beauty of dark-hued bodies.
However, few can be said to be as stunningly dark as the beautiful Nyakim Gatwech, the "Queen of Dark".
Nyatim Gatwech is a model who is proud of her Sudanese origins and appearance.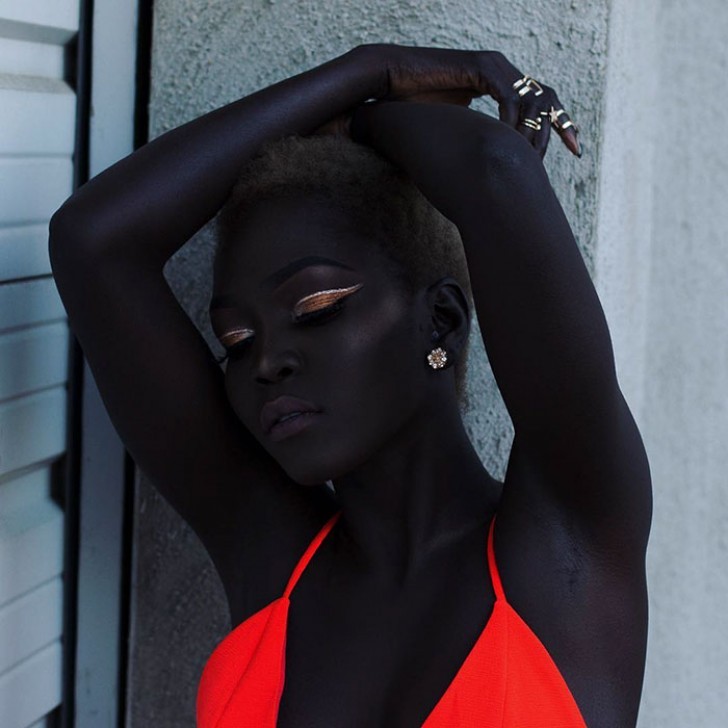 With her beauty and determination, she wants to eliminate the barriers of conventional beauty, and encourage others to do the same in other areas.
She is only 24 years old, but if she is comfortable in front of the camera lens, it is because she has fashion in her blood, and she is convinced she will succeed in her mission.
Unfortunately, even after having arrived at modeling on some the world's most famous fashion runways it has not helped her to avoid being the recipient of insults and nasty jokes.
This is because there is still those who think that a dark-skinned body cannot be synonymous with beauty.
But Nyakim fights daily to eliminate absurd ideals both in the world of fashion and outside of it.
And to give a voice to all people who have experienced racial discrimination.
Her beauty is appreciated by the greatest stylists and she has all the cards in place to become one of the world's top models.
She currently lives in Minnesota, in the United States, where racism against blacks remains an unresolved issue.
But she says, "Black is beautiful! Do not let American standards damage your African soul!"
"Love the skin color that you are born to live in!'
She is Nyakim Gatwech, the Queen of Dark.