Successful model gives up on luxury and returns to live in her village working the simple life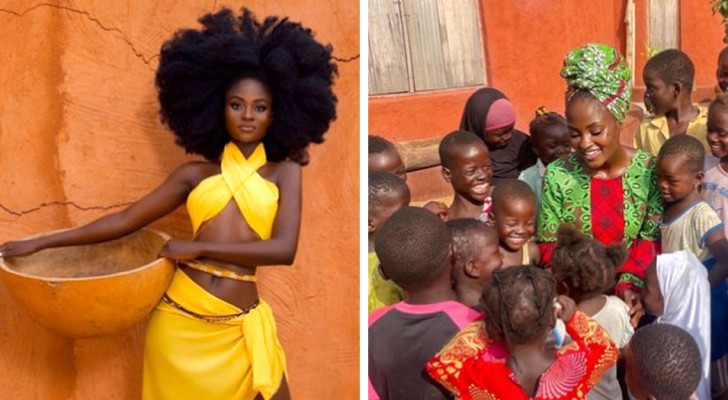 Advertisement
Too often it happens that one forgets one's origins - almost ending up being ungrateful and uncaring towards the places and people who played an important role in our growing up process. For some, the leap in lifestyle was significant: Hamamat Montia was a winner of many beauty contests and a successful model for many major luxury brands. Perhaps she didn't really expect to achieve all her success, having starting her life in her village in Ghana. Hamamat, however, first became Miss Ghana and then Miss Africa thanks to her incredible beauty and personality. It was clear that after these success, the woman has move a long way from the lifestyle she had previously led - but during a moment of crisis, she realized she was not in the right place and returned to Africa, to her home, to help the other inhabitants of her village.
Advertisement
Hamamat Montia's story does not sound like one that one would expect from those who have achieved the success they deserve. This beautiful African model, after she won numerous competitions and established a new reality for herself, and despite getting with her new life was not really satisfied with the whole situation. To achieve the success she had, she had to leave her village, leaving her father. And when she separated from her husband - the father of her two daughters - Hamamat questioned her whole life and wondered if she was in the right place. To resolved this crisis in the right way, the young model has chosen to return to a "simple" life: she packed her bags and returned with her daughters to her village in Ghana.
At first it was not easy for her to return to the village and be accepted by everyone. Her family, of course, helped her a lot, bringing her food and getting her integrated into village life again. Some villagers, however, hurled insults at her and said that she could not be trusted as she had long since left their world and lived a reality that was very different. Hamamat, however, did not allow herself to be discouraged by these first obstacles and, on the contrary, she began to become passionate about the production of shea butter - a product from her area and which has multiple benefits for the body.
Advertisement
Since then, the artisanal production of shea butter has become the focus of her new business: she patented the Hamamat African Beauty brand and sells this product in many parts of the world. Every day she receives hundreds of orders and thanks to her well-deserved success she can live peacefully and prosperously with her family in the place that was most dear to her heart. It goes without saying that with her presence and her business activities, Hamanat contributes greatly to the welfare of her village.
This is a woman who has shown how, with a little courage and awareness, you can achieve extraordinary results anywhere. The important thing is to feel good in the place where you are and never forget your family.