A model with Down Syndrome participated in the 2020 New York fashion week with success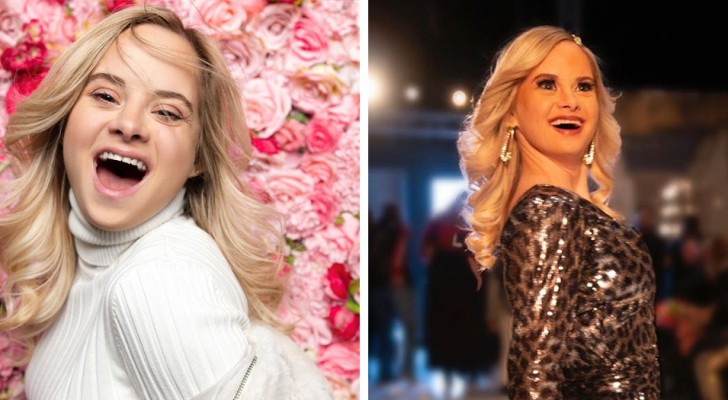 Advertisement
The famous New York Fashion Week is held twice a year, in February and September, and is considered to be among the four most important fashion weeks in the world, alongside those held in Milan, London, and Paris.
It is, therefore, an extremely important event for those who aspire to work in the field of fashion and it is certainly a "don't miss" event for fashion fans.
This year, for the edition held during the 2020 February New York Week, Sofia Jirau, a 22-year-old model with Down Syndrome and an innate passion for the world of fashion managed to fulfill her fashion model dream by participating in the fashion week in New York!
After achieving this goal, Sofia is convinced and increasingly determined to make her dreams come true, and she is looking forward to revolutionizing the world's fashion industry.
via Hiplatina
Advertisement
With her presence and desire to put herself on the line at all costs, Sofia shows every day that there is no difference between the dreams of a young woman with Down Syndrome and those of any other young woman.
Her participation and the fact that she is, to say the least, a talented model has made it possible for her to break down, at least in part, some of the erroneous conceptions about those who have Down syndrome.
Typically, many people live according to what society imposes on them and many people are not used to seeing a young woman with Down syndrome modeling on some of the most well-known catwalks in the world. But Sofia has nothing to envy her colleagues.
On her
Instagram
profile, which boasts more than 60,000 followers, Sofia has spoken about her recent participation in the 2020 New York fashion week:
"I was born to do this and I want to show the world that I have everything it takes to shine like the other models."

Her wonderful family supports and encourages her a lot—the whole family flew from Puerto Rico to accompany her to the 2020 February New York Fashion Week, making the young model's experience there even more memorable.
Advertisement
However, this young woman does not want to assert herself only as a fashion model, but also as an entrepreneur in the world of fashion.
In particular, she would like to see her own personal line of clothing called Alavett take off. She says that her biggest inspiration is Jennifer Lopez, whom she hopes to meet one day.

But for now, 22-year-old Sofia is herself, a source of inspiration!
Source: