Clever ideas to upcycle your flip-flops!
In summer the shoes that you wear the most are flip-flops because they are comfortable, light, and versatile. They can be worn with sports apparel or more elegant attire, their simplicity it always appropriate! 
Being also very economical, it can happen to find yourself with several unused pairs. The DIY project that we present today, takes precisely those flip-flops, that for one reason or another, have spent the summer in the closet without ever being worn.
Here is how to create a cheerful summer ornament, with which to decorate your home!
Materials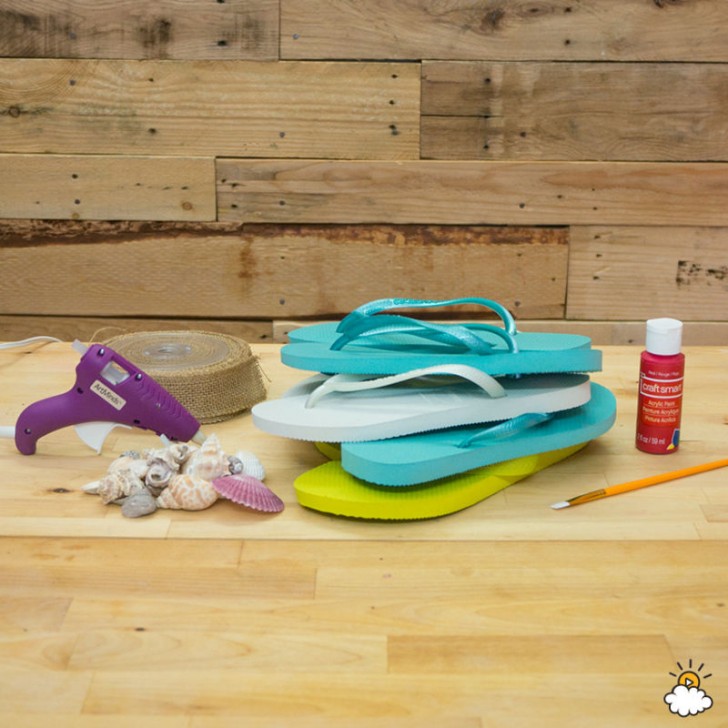 Three pairs of flip-flops
Hot glue
Belt fabric
Acrylic colors and brush
Shells and other decorations of your choice
Align the flip-flops side by side alternating the available colors and placing them in such a way as to form a slight arch.
The next step is to glue the sides of the flip-flops to each other with hot glue.
Let dry, then turn the flip-flops over and glue a strip of sturdy belt fabric to the soles of the flip-flops. This will allow your flip-flop creation to be hooked to a wall.
Turn the flip-flops back over and glue on the seashells or any other decoration that you like, wherever you wish.
Now write on the flip-flops the word you have chosen. In this case, the word is "WELCOME", to greet all the visitors who enter the house.
You can choose any word you want and as a result, the number of flip-flops needed will vary. We advise you not to use words with a higher number of letters than eight.
Let the paint dry then hang your creation on a wall using the belt fabric attached to the soles of the flip-flops.
A really bright and cheerful DIY idea! Suddenly you feel like you are living in a tropical location! What you live near the beach or that only sogniate a warm sea in which swim, this creation is sure to bring the spirit of summer in your home! The flip-flops recycling ideas do not end here. . . You know you can turn a simple model in a more elegant to show off at an outdoor dinner? Here's how! Pwords: 0
Whether you live near the beach or only sometimes dream about diving into a warm sea, this creation will surely bring the spirit of summer into your home!

The recycling ideas for flip-flops do not end here . . . In fact, did you know that you can transform a simple model of flip-flops into a more elegant one to show off at an outdoor dinner? Here's how!