Mother give birth to a 6 kg baby: and with a full head of hair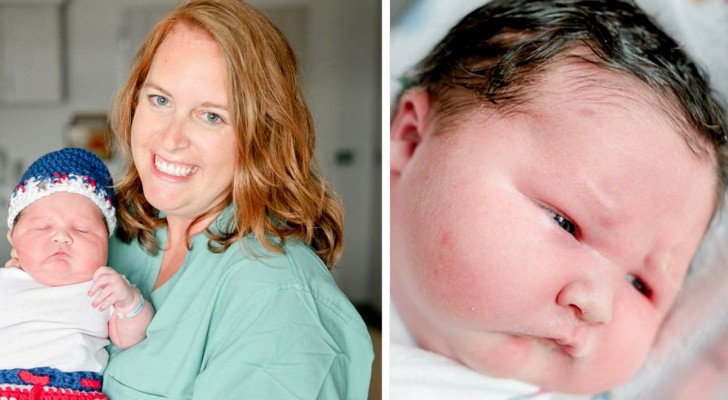 Advertisement
The birth of a baby is always a special event, but when the infant is significantly larger than average and has a full head of hair, this can be an extra surprise.
This was the case of a child born in an American hospital and who caused a sensation due to his weight and his "abnormal head of hair". The baby was almost 6 kg, and had a head covered with hair. This news immediately went viral on the web, arousing interest of many.
via nbc15
Advertisement
Giving birth to a 6 kg baby is quite rare. And with a full head of hair too, is even rarer. And you might think that the mother - Amanda Hara - had a hard time delivering a baby this big.
But fortunately, there was nothing "problematic" with the delivery. The "little" one was born at the Williamson Medical Center in Franklin, in the United States on Independence Day (one of the most important American holidays).
Many have wondered if this baby will win a place in the Guinness Book of Records. Is he the biggest baby ever born?
Advertisement
The answer is no - another baby holds this record: on January 19, 1879, a woman named Anna "Giantess" Bates gave birth to a boy weighing 9.98 kg and with an impressive height of 71.12 cm!
Unfortunately the Anna's baby passed away shortly after being born.
Amanda's post attracted a lot of positive comments: "He IS gorgeous, so sweet… and so is his beautiful little embroidered knit clothes!" one user wrote; "Absolutely adorable! Congrats to the mom on giving birth to a future football player," commented another. A third said, "Wow! He's so cute. He's got such a thick head of hair that matches perfectly with his adorable outfit!" And a fourth added, "Congratulations, it seems like bigger and bigger babies are being born lately." What do you think of this story?
Advertisement