Father with dementia cannot recognize his daughter, but a small miracle happens during her wedding (+VIDEO)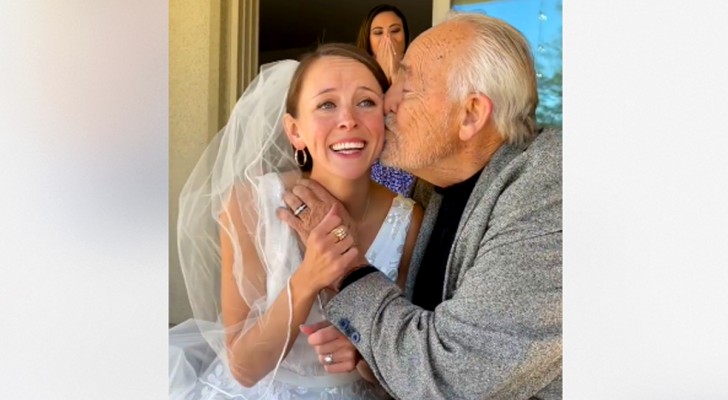 Advertisement
We all know how unique and important a wedding day is: a special event that celebrates a great love and transforms it into something even more special, a bond for life, a mutual love that trumps everything. For such an important day, one wants only the best and that the whole ceremony is perfect. And, of course, the guest list is crucial too.  
The subject of this story has a father who is suffering from dementia and he cannot remember things or recognize individuals reliably... So, this woman tried something sweet to "awaken" her beloved father so he could enjoy her wedding with her. Let's see what she did:
via Newsbreak
Advertisement
Julia was about to get married and really wanted to be walked down the aisle by her dad. Unfortunately, her father, suffering from dementia, didn't even recognized her and didn't understand what was going on.
But Julia, as we can see in the video, spoke to her father tenderly and guided him to a seat at the high table. There, she got him to sit down and relax.
Julia's father, even though somewhat disoriented, was pleased with the attention he was receiving and his eyes showed his gratitude through a veil of slight confusion. Then Julia did something unexpected and it's incredible...
Advertisement
At the table, Julia shows her father paints and a paintbrush that have been set out. Her father seems astonishedand starts muttering something. Then, Julia gives her father the paintbrush, guiding his hand back and forth, just like he is painting something...
The brush moves up and down, but hasn't yet been dipped in the paint: Julia's father seems to be stimulated by the painting action and movement and his confusion starts to clear.
In the next instant, Julia's dad becomes completely lucid! He turns to her daughter, recognizes her and hugs her tightly, calls her his darling and telling her she is beautiful. Neither of them can hold back their tears at this little miracle, ensuring Julia had a perfect wedding day!
Source:
Advertisement