At only 23 years of age she already has 11 children and has not yet reached her goal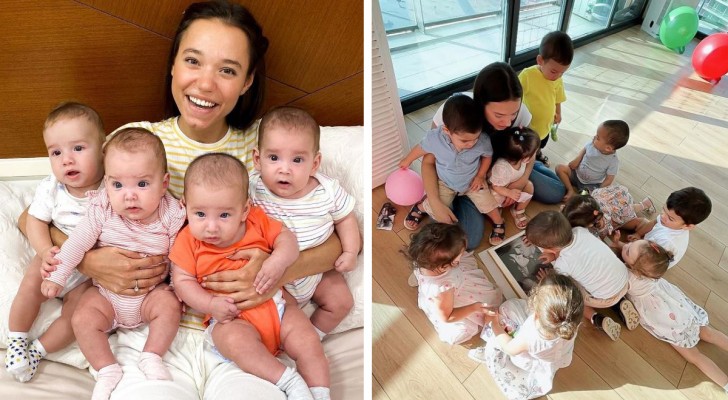 Advertisement
Having so many children is an invaluable gift, but at the same time it is also a very demanding challenge: having so many children around makes the family a joyful environment, but it requires responsibility, commitment and sacrifice. Yet it is worth it, as parents' hearts are always filled with pride when they see their little ones smiling, hugging, and helping each other.
The story we are about to tell you is a perfect example of a 'large family', albeit a rather unusual one. But let go in order.
via LadBible
Advertisement
Christina Ozturk, a 23-year-old young Russian woman, lives in Batumi, Georgia, with her husband Galip Ozturk, a wealthy hotel chain owner. The couple is well known on Instagram and said they have a large family of 11 children. So far, the couple has had 10 children through the use of surrogate mothers and only one was conceived naturally by Christina.
The couple stated that the family is enjoying this situation and that they love having children so much that they might even reach 100. Despite the excessive number, the couple made it clear that they will continue to try to have many more children without necessarily reaching the record number, as they believe that everything has its time.
Advertisement
The mother revealed that each child obtained through surrogacy cost EUR 8,000. The couple explained that the clinic selects surrogate mothers and manages the entire process, thus preventing the couple from having direct contact with the mothers to prevent any future problems.
Christina and Galip met when the young woman was on holiday in Batumi, where they decided to settle. Galip shared his love for his wife, describing her as someone with a smile always on her face, but at the same time shy and mysterious. He considers her the kind of wife he always wanted: 'She is a diamond in the rough in which I recognised a pure and kind heart,' he commented. The ideal person with whom to start the huge family of his dreams.
What do you think of this couple's choice?
Advertisement