Photo of a father sleeping on the floor in the hospital goes viral: his wife explains what happened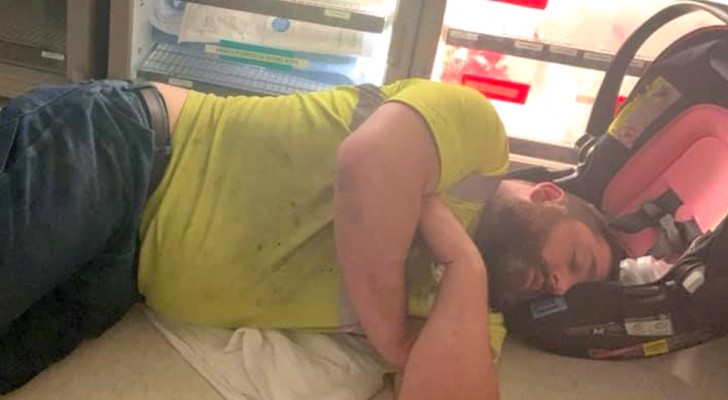 Advertisement
Many times, we hear or read about relationships that are not exactly balanced: too often, women are forced to make great sacrifices to raise their children. But children should be raised equally by both their parents.
In this story however, we have a mother who took a photo of herself with her loving husband: a sort of recognition for all the support he had given her. Read on to find out more:
Advertisement
Sara Duncan, a teacher from Fredericktown, Missouri, wanted to immortalize an image of her husband, Joe. In the photo, we can see Joe lying on the ground, "curled up", sleeping soundly and using his youngest daughter's pushchair as a pillow.
"Here's what my eyes see: a dad, a husband, sleeping on the cold, hard floor of an emergency room after finishing a 12-hour work shift that he has been working for 6 days a week for an entire month now. All this because he didn't want his wife to go to the hospital alone: although he was exhausted, he wanted to accompany me and stay with me and our sick baby," Sara said in a moving post on social media.
"It's not true that being a parent is always a 50/50 relationship - sometimes things go very differently. But in my opinion, this is true love," she added. The reactions to Sara's comments caused quite a stir – her post was shared over 31,000 times!
"Marriage and parenthood aren't equally shared 'burdens'. Some days the split can be 60/40, 70/30 or even 80/20 and you have to be willing to shoulder that load to support your partner through those times. This is love. This is being a good husband. This is being a dad. And I wouldn't want anyone else by my side! Thank you for everything you do for us, Dad! We love you," Sara added.
Joe, who works as a cement technician, had just finished a 12-hour shift, but still insisted on going to the emergency room with his wife, Sara. An hour by car and then waiting in the waiting room for hours. And the photo says it all.
Fortunately, their little girl didn't have anything too serious - just a little asthma, and was soon discharged.
Being a parent is never easy, but what matters most is knowing how to communicate clearly with one's other half in order to guarantee the best possible outcomes: it is not a matter of "mathematical" fairness, but providing the right support at the right time.