Woman spends almost $145,000 to have her legs elongated: "Now my life is complete"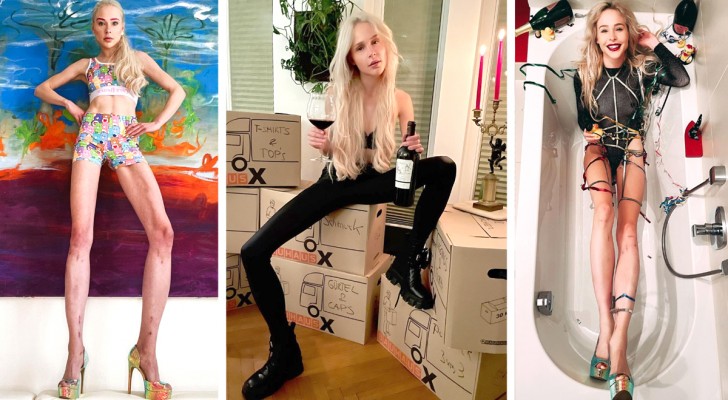 Advertisement
Beauty, as we know, is a factor which is difficult to ignore: a pleasant appearance is always generally appreciated, even if obviously it must be accompanied by many other qualities. However, nowadays its importance seems to have increased considerably thanks to social networks and the stereotypes of beauty shown through in the media. Not only the female audience, but males to, can be driven to strive for physical perfection.
The subject of this story is a woman who, in order to feel comfortable with herself, has decided to undergo a delicate and painful surgical operation.
via Dailystar
Advertisement
Theresia Fischer, a 31-year-old model, says she has always been bullied, even as a child.
So, in response, Theresia spent around $145,000 dollars to make an "aesthetic change" to her person. The rather delicate operation consisted in "reshaping" her legs in a rather drastic way and implanting them with metal "supports" which were slowly extended over the next 3 months.
Theresia has gained just over 13 cm in height, much to her satisfaction: "Now I feel happy and satisfied with my legs, but I have been hit by a wave of critisism...".
Advertisement
In fact, many have criticized Theresia, saying she has "gone too far" and that the op was unnecessary: Theresia was, in fact, already quite tall before the surgery. "Why am I subjected to so much hate?", she asked. The young model has gone from being bullied for one reason to being bullied for another.
However, she is still happy with her decision and said the op has increased her self-esteem. And apparently, her long legs have enhanced her modelling career.
Additionally, Theresia happily admitted that her new look has made her more attractive to men, including her boyfriend.
In short, many do not agree with what Theresia did to herself. However, we should not judge decisions make for their lives if it doesn't impact others in a real way, don't you think? What do you think about this story?
Advertisement