Young woman chooses a natural look instead of using an excessive amount of make-up: "People find me even more beautiful"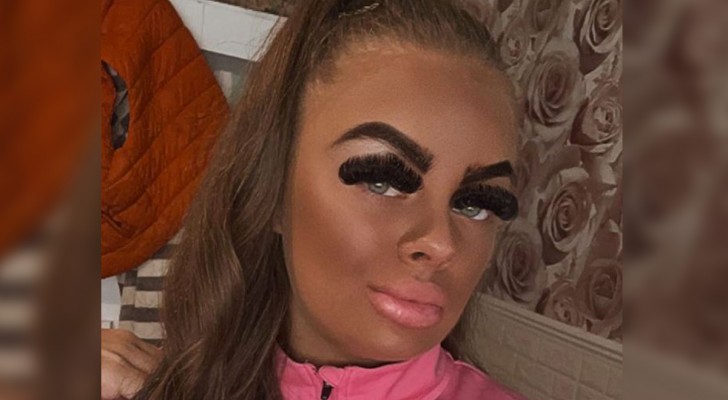 Advertisement
Modern aesthetic and beauty standards are very high and sometimes, there are those who go to extremes in this regard. But what drives a person to want to change their appearance? And what are the consequences of undergoing a radical transformation?
These are some of the questions that Millie Hazelgrave has probably asked herself. Millie was a hard-core follower of beauty, but she has now decided to abandon using heavy make-up and false eyelashes. Millie, 21, from West Yorkshire, UK, has become famous on the web thanks to her past use of excessive amounts of make-up.
via The Sun
Advertisement
This young woman amassed thousands of fans who were admirers of her past make-up routines and habits. Recently, however, Millie decided to stop using heavy make-up for a while to show off her natural look. In a post she shared online, Millie is seen sporting a much simpler look, with just a dash of blush to her cheekbones and no fake lashes.
Along with the clip of her, Millie commented: "Here's when a girl says no to excessive make-up. Even if I say so myself, I'm beautiful au naturel." The post made the rounds on social media, quickly getting over 98,000 views and countless comments from social media users who all agree that Millie is a natural beauty. Millie captioned her post, "I'm gorgeous."
Advertisement
Millie's decision to "go natural" sparked a number of mixed reactions among her fans: "Your eyes are stunning, don't hide them behind false lashes!" commented one fan. "You look so much better without any makeup!" another wrote. Some fans appreciated her sincerity and courage, but others criticized her for her hypocrisy and her vanity.
Millie hasn't let the negative comments upset her and continues to change her look depending on her mood and her penchant to experiment. She undertands that true beauty doesn't depend on makeup or fashion, but on self-confidence and being true to one's open personality.
Advertisement