At 26, this man dresses in early twentieth-century clothes, complete with a pocket watch and top hat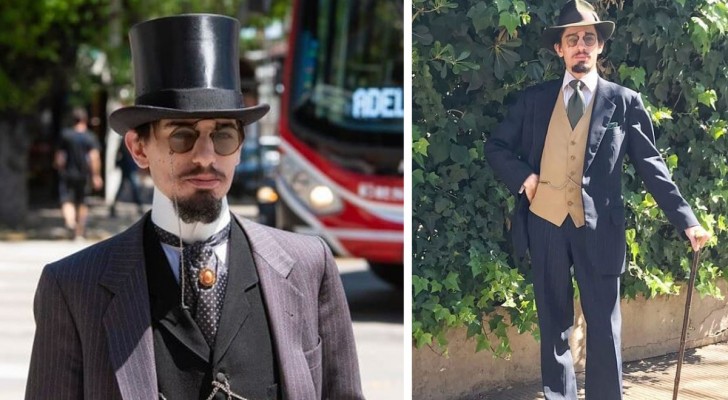 Advertisement
In the distant past, it was common to see men dressed in elegant suits, waistcoats, top hats, pocket watches, monocles and walking sticks. In fact, films sets covering the era show us a past world that was very elegant and sophisticated. Over the decades and more than a century later, seeing this style in real life has become exceedingly rare.
However, a 26-year-old from Buenos Aires, Argentina named Santiago Pellegrini is trying to recapture this "dandy" style from the past. Let's find out why:
via Infobae
Advertisement
Santiago has always loved vintage clothing: his passion led him to become an antiques dealer and to open his own shop. The young man wears Victorian-styled clothes every day, both at work and when out shopping. It hasn't been easy for him, as he teased and insulted wherever he goes, but he learned to ignore these slights.
The young man mainly shops at American clothing fairs and asks his neighbors to keep an eye out for vintage clothes. Some of his friends even made him some bandeau pants. However, Santiago is well aware that he is living in the 21st century and that technology can be very useful in life. He has bought clothes and books online and met his girlfriend thanks to a message she sent him after seeing a photo of him: "She is the perfect girl for me," Santiago commented.
Advertisement
Santiago loves walking the streets of Buenos Aires in his elegant silk suit, cravat and pocket watch, attracting the attention of passers-by and stopping for a few selfies. Regarding modern fashion, the young man has very clear ideas:
"I think in the 80s and 90s elegance in fashion started to go into decline globally. Fashion has... I won't say regressed - because there are still many people who dress well and there are still famous designers around - but from what you can see around, there is no individuality of style, no real class or true elegance," he commented.
What do you think: do you agree with his point of view and do you like his style?
Advertisement