98-year-old woman, with more than 200 grandchildren, meets her great-great-great-granddaughter for the first time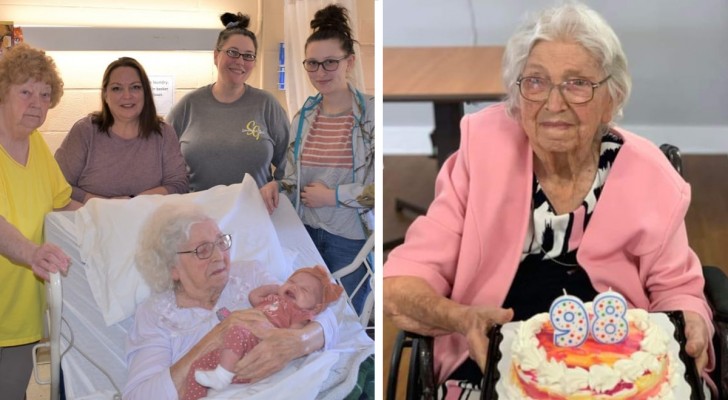 Advertisement
Technically, we all have a family - we were all born from the union of two people (even if fleetingly). Children from one generation grow up, have children and so on, creating a web of relationships: children, mothers and fathers, grandfathers and grandmothers, and many others.
Today's story is truly incredible because it is a very difficult task to describe in detail the kinship ties of the woman involved! But let's try:
Advertisement
Cordelia Mae Hawkins, better known as MaeDell, is 98 years old and boasts an incredible number of descendants: 623! Among these there are 106 grandchildren, 222 great-grandchildren, 234 great-great-grandchildren and 37 great-great-great grandchildren.
Cordelia was 16 years old when she married her husband Bill - he was 50 years old and a widower with 10 children andhis first wife died giving birth to Siamese twins. Cordelia's "startup" family was thus already quite large, but that was just the beginning: MaeDell had 13 children with Bill in the years that followed.
One of the woman's granddaughters, Howell, describes what it was like to grow up in this large family: "Grandpa Bill worked seven days a week on the railroad; Grandma MaeDell, having so many mouths to feed, would get up at dawn, stoked the woodstove, went out to collect eggs, cooked a couple of chickens, made biscuits and gravy, and finally cooked breakfast before the kids left for school. And my grandmother had to learn to improvise by farming and canning most of the family's food and making medicines from local plants. Despite some particularly difficult times, Grandma MaDell took care of everyone and never complained".
Advertisement
As if all of this weren't already unbelievable, Cordelia has become famous for something else: she appears in a photo holding Zhavia Whitaker, the latest infant to join the family. And included in the photo is Cordelia's daughter Frances Snow, 77, granddaughter Gracie Snow Howell, great-great-granddaughter Jacqueline Ledford, 29, and great-great-great granddaughter Jaisline Wilson, 19!
The meeting between the youngest and oldest member of this family went even better than expected: Howell said Cordelia and Zhavia spent three hours together, with the 98-year-old almost "kidnapping" the baby. This is definitely a moving and amazing family portrait.
What do you think of very large families: would you like one?
Advertisement