This mother is expecting her sixteenth child and states that she doesn't want to stop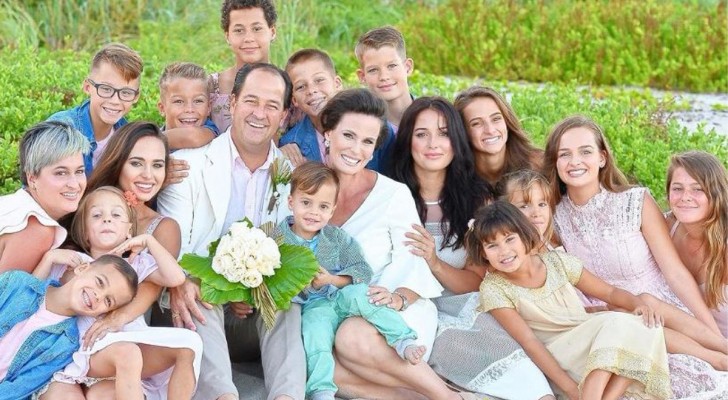 Advertisement
There are some people who don't really like children and prefer not have them; then there are those who want nothing more than to surround themselves with little ones to take care of. Well, Mrs. Lyette Reback falls into this latter category. This 40-year-old woman grew up as an only child and - wishing to be surrounded by a large family - she managed to make her dream come true and is now expecting her sixteenth child.
She gave birth to her eldest at the age of 21 and she hasn't stopped since: She has spent 10 years of her life being pregnant, during which she gained and lost 273 pounds in weight. .
via Littlethings
Advertisement
With all these children to care for, Lyette's home feels more like a small family business, but it's incredibly organized. It is Lyette who takes care of the education of each individual child, while her husband David goes to work to provide for the weekly shopping which costs $650 dollars. The two met when they were both just 19 years old. Just 10 days after meeting, they decided to get married and two years later, their first child was born.
The couple has six sons and nine daughters - four of whom are adopted - all aged between 20 and 4 years. "In all my pregnancies, I have never had a caesarean section!" said Lyette (who has also found the time to write a book on how to manage a large family). So, does a typical day in this family look like? Read on:
"I wake up at 5:30am every day, start the day with a prayer and write a to-do list. Then I wake up the kids so we can get start the homeschooling," Lyette said. She teaches her children math, science, languages, history and art and assigns her children chores to do according to their ages. For example, Trinity, 13, and Liberty, 11, prepare three meals a day, while the other siblings vacuum, clean toilets, dust, etc. All the children participate in community events and help out with their mother's charity.
They are a close-knit family: they almost always manage to eat meals together and they also organize a weekly movie night. In the evenings, Lyette tucks all her children into bed: "Sometimes it's so challenging I can barely remember my own name, but it's worth it," she said.
Would you like to have such a large family?