"I've been a pilot for 8 years, but they still mistake me for a stewardess: I'm sick of it"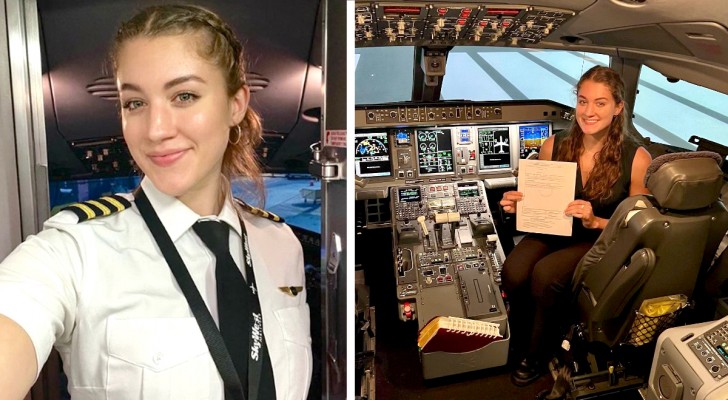 Advertisement
Everyone, from an early age, has a secret dream. An idea that they would like to realize when they grow up - but this is not always possible. Many times, there are jobs that we would like to do, but which are beyond our grasp. That said, there are some who do succeed and achieve their dream job. But even here, problems can arise.
Proof of this is the young woman we are about to tell you about here, who has decided to tell her story. Read on to find out more:
via Daily Star
Advertisement
Sabrina Johnson is a 22-year-old young professional who works as an airline pilot. Hers was a journey that began at the age of 14, when she took her first steps in the world of aviation.
And while her peers spent their days in a carefree way, this 16-year-old girl was taking flying lessons. The following year she even managed to qualify as a private pilot and at age 20 she graduated from college as a flight instructor. But, despite all these wonderful achievements, not all was well with Sabrina. Why? Well, let's find out...
Advertisement
Sabrina said that many times she is mistaken her a stewardess, even though she is wearing a pilot's uniform. And Sabrina finds this type of stereotyping rather disheartening.
And this is the message that Sabrina wanted to send. Often, intelligent women, young and old, are not recognized for what they have achieve and are subject to prejudice and stereotyping. In a short clip she published to her TikTok account, Sabrina wants to shine the spotlight on the importance of dismantling clichés and stereotypes and to recognise women for their achievements in life.
And if we are honest, many young men and women are not "taken seriously" in their careers because they are considered "too young". But, of course, everyone deserves respect - old or young, men or women. Sabrina wants to encourage those who, like her, want to pursue a male-dominated profession: do what you need and want to, follow your dreams and don't become discouraged.
What do you think about this issue?
Advertisement