"My 2-year-old son wanted to wear a dress to our wedding and we let him"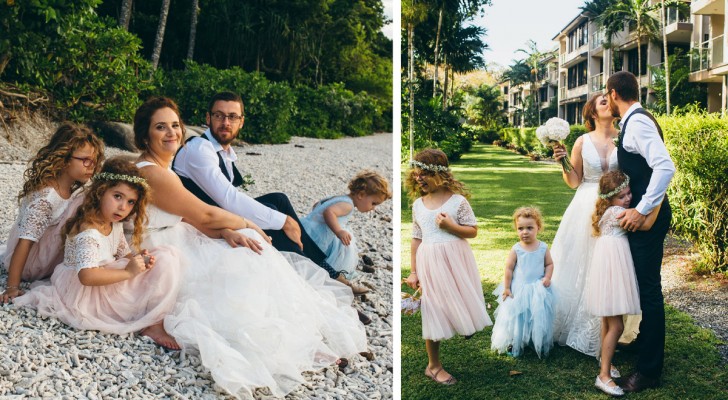 Advertisement
Young children, as we know, are emblematic of innocence and spontaneity: they don't know the difference between right or wrong, beautiful or ugly, male or female. They follow their instincts and accept all forms of diversity without showing any prejudice. For this reason, when Joanna Miluzzo heard her two-year-old son make an unusual - but innocent - request for about the her upcoming wedding, she decided to oblige. The little one didn't want to wear a suit with trousers for his mother's wedding; neither did he want to wear a Scottish kilt: he wanted to wear a blue dress with a tulle skirt.
via Globalnews
Advertisement
"He has two little sisters aged 6 and 7 and he was fascinated by their little bridesmaid dresses, so he wanted one too," said Joanna, 39. "At first, I hesitated: I was worried about what he would think about it when he was older, but in the end what will be, will be. The important thing is that he is happy".
Joanna knows how important it is to raise your children with self-esteem and their own personality, so she let all three of her children decide for themselves what to wear to the wedding: "I want them to be confident and to be aware that the only opinion that it's theirs that matters," she commented.
On the day of the wedding, the little boy's dad helped him into his lace and tulle dress and both were happy: "There aren't many men who will help their son into a dress. It was a beautiful moment between father and son," Joanna recalled. Unfortunately, not everyone was as thrilled by this and posted negative comments to social media.
"Most people accepted my son's choice; others less so, however. I want to give these negative people some advice: be a good role model for your children, for the children of your friends, for your grandchildren. Be kind. Let children be children. Let them express themselves, teach them kindness, and teach them about different types of families and lifestyles. Love them for who they are and how they express themselves. Don't suppress who they are or hold them back just to appease society," said Joanna.
Profound words, don't you think?