Couple celebrate 50 years of marriage by recreating the original photos taken on their wedding day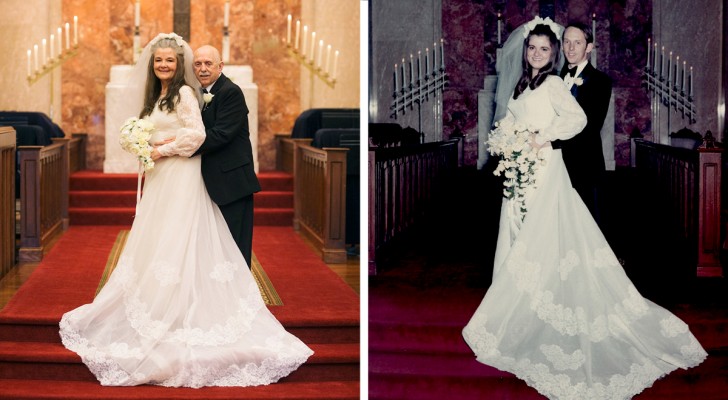 Advertisement
When lovers decide to get married and seal their love with an eternal promise, they obviously imagine that their relationship will last forever. But how many can this promise? There are couples who overcome any adversity and continue to walk side by side, while there are those who stumble and fall.
The wonderful couple we want to tell you about here belong to the first category. Despite many difficulties, have achieved 50 years of marriage, and they wanted to celebrate this milestone in a very special way.
via People
Advertisement
Kelly and Carolyn Gay met many years ago, fell in love and decided to get married on March 12, 1971. From that moment on, life had not always been kind to the couple. Health problems and other challenges put their union to the test - but they somehow endured.
There have also been wonderful moments in the couple's lives: having 3 children and 4 grandchildren, for example. Still together 50 years later, they decided to do something special for their anniversary. So what did they do?
Kelly and Carolyn decided to faithfully reproduce their wedding photos - five decades later. For this reason, and on their 50th anniversary, they hired a professional to do this. The Hoyles Photography Studio took the photos. Thanks to the professional photographer, Sam Hoyle, it was possible for the couple to return to the original locations and take photos identical to those taken 50 years earlier.
Carolyn wore her original wedding dress - which still fitted her - and Kelly was very elegant in his tux. We can only imagine how exciting it was for this couple to relive the magic of their wedding day. This loving couple succeeded where many have failed.
"We went through a lot, but we didn't do anything particularly special. There were difficulties that we overcame and moments of joy that we both enjoyed," Kelly said.
Advertisement
According to what the photographer posted to the couple's Facebook page, the two had kept the receipts for the event and could show that $46 had been invested in the bride's dress, about $63 for the reception for 193 guests, and the original photos had cost $100. Additionally, Carolyn had grown her hair out for three years in order to match the original photos on the day.
Would you like to reach 50 years of marriage with your partner?