Granddaughter films her grandmother's last moments together with her grandfather: "Goodnight my darling, you were so precious to me"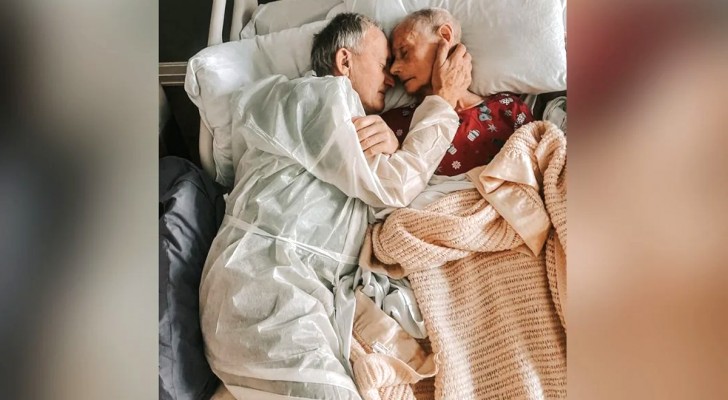 Advertisement
Love is the greatest and purest feeling of all, but many never experience it to its fullest extent. How many can say they know how unconditional love feels? Nowadays, it's difficult to even have a date go well, let alone meeting a soul mate. Despite this, there are some lucky individuals, but to find them, you really have to search. Emily Hime has touched the internet with her photos and with the sad story of her grandfather and grandmother, who died prematurely due to a terrible illness. According to Emily, we have much to learn from her grandparents.
Advertisement
Emily shared a heartwarming tribute to her grandparents on her Facebook page. She jokingly stated that everyone in the family said her grandfather, Derek, couldn't have survived without her grandmother, who literally ran everything. Unfortunately, life is very unpredictable and Emily's grandmother fell victim to cancer, which forced her to become dependent on her husband and to undergo chemotherapy. For a year, their roles were totally reversed and Derek had to learn to cook, do the laundry and whatever else his beloved wife needed him to do. In her heartwarming message, Emily describes her personal definition of "love" with these words:
"Love is Grandpa holding her hand. Attending every doctor's appointment. Who wouldn't leave her side because he didn't want Grandma to be alone, even for a few minutes."
Grandpa Derek never abandoned his beloved wife, not for one moment, and hoped his wife would be able to come home. His hope was so strong that he even asked his granddaughter Emily to help him decorate the house for when her grandmother returned. Derek never stopped telling his wife how beautiful she was as she slowly slipped away. "They had the kind of love that lasts forever, a love we all aspire to," Emily wrote, "They were just about to celebrate 60 years of marriage together."
Derek's last words to his wife, before she died, were heartbreaking: "God's speed and good night, my darling."
Referring to her grandparents' wonderful love story, Emily gave his advice: "Pick someone who will still be your best friend in 60 years time. Someone will hold your hand in good times, but especially in bad times. Someone who isn't embarrassed or shy to express their love. Someone who will say "this woman is the most beautiful thing in the world and I love her so much" to a room full of people. This is true love." We could not agree more with this definition.