Man orders dinner online, but gives the wrong delivery address: he gives the meal to the delivery man to make up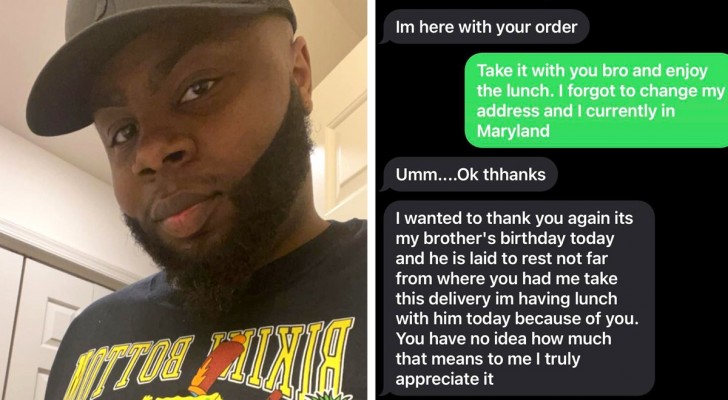 Advertisement
There are those who think that everything happens for a reason, while others do not believe in fate. Quite often, however, coincidences occur which seem to have been pre-ordained. Proof of this is this story in which a young man found himself involved.
On day like any other, he ordered a hot meal and waited for it to be delivered to his house. But something went wrong and the mistake changed, albeit momentarily, the life of a complete stranger.
Advertisement
Sha Davis lives in Washington, USA, and one day he decided to order a hot meal on the internet and have it delivered to his home. So far there's nothing strange about this. This is a habit shared by many people: but it can be a problem if you give the wrong delivery address.
The last time Sha had used the application, the young man was staying at a hotel and not at home, which is why he had changed his data. When purchasing the food, Sha completely forgot this detail, inadvertently sending the delivery man to the wrong address. Sha didn't realize the mistake until he received a message from the delivery man.
Indeed, once the dlivery man arrived on site, he wrote Sha a message, stating that he had arrived at his destination and was waiting for him. Sha replied: "Take my order and enjoy your meal. I forgot to update my address and I actually live across town". Sha was racked with guilt about his mistake - at least, until he got the delivery man's response.
The delivery man said: "I wanted to thank you as today is my brother's birthday. He has passed on, but his grave is not far from the address you gave me. Thanks to you, I'm having lunch with my brother today and you have no idea how much that means to me. I am grateful." The delivery man's words moved Sha and all the users who became aware of the story.
Advertisement
It's strange to think that a small thing can change a person's life or make them happy for a while. Sha made a mistake but it turned into something special. "I don't know the name of the delivery man, but I know that I inadvertently did something important for him today," Sha said.
Sometimes, our mistakes can work out and small blunders often have happy endings.
Have you ever found yourself in a similar situation?