Little girl brings shoes she no longer wears to class: "They are so beautiful and I would like to give them to someone who doesn't have any"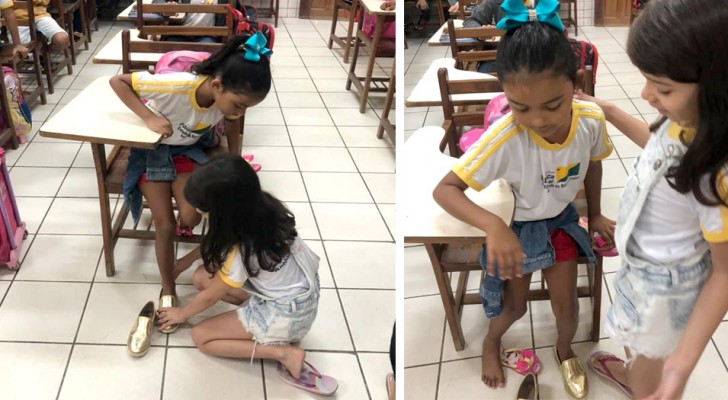 Advertisement
Dealing with children is a wonderful experience. The little ones always know how to surprise us and there are occasions when we can learn a lot from them. With spontaneity, purity of mind and sweetness, children can set exemplary examples for everyone.
Such a thing happened in the story we want to tell you about here. In this case, it was an elementary school girl who made a particular request of her teacher. Let's find out together what it was:
Advertisement
Mary Moraes lives in Cruzeiro do Sul, Brazil and works as a primary school teacher. It was she, through a post published to her Facebook account, who told the story about one of her students. On a regular schoolday, Isabela - one of Mary's students - asked her if she could make an announcement.
"I would like to give one of my classmates these shoes. They don't fit me anymore, but they are so beautiful and I wish someone had them," Isabela announced. This kind offer moved Mary deeply.
Almost immediately a student raised her hand and asked what size the shoes were. Isabela then approached her, knelt down in front of her and helped her put the shoes on. "I still have to recover from this tender scene," said Mary.
And who would not have been moved by the kindness of little Isabela? Later, Mary said: "Let's pass on to our children the importance of loving, giving and respecting others. Only in this way will we have a better world to live in".
Advertisement
These words perfectly sum up the fact that a small gesture can show a lot of love. We really hope that many will take a leaf out of this little girl's book and emulate her example.
Congratulations to little Isabela and her act of kindness.