Woman takes a nap during a flight: when she wakes up, she finds her socks have been "scribbled" on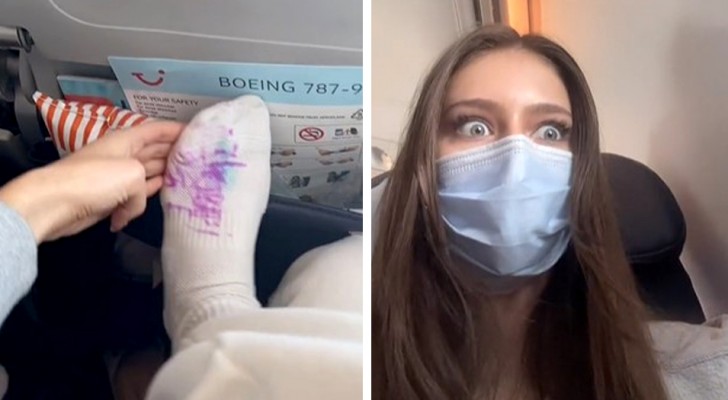 Advertisement
Traveling by plane has become very common practice nowadays. Every day, many people book tickets and embark for vacation spots or for work locations. Whatever the reason, the thing that is most important for passengers is being comfortable on the flight.
The subject of this article described an experience she had on her flight and posted her story to TikTok.
Advertisement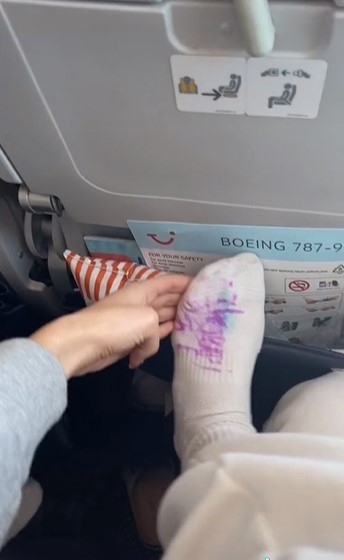 Julia Valentine is a young woman who was on a flight when something very strange and unusual happened to her. Settled into her seat and eager for a nap, she drifted off to sleep, but before she did, she took her shoes off and placed her feet in the space between the plane's side wall and seat in front of her. So far nothing seems strange about this: having found the ideal resting position, Julia fell asleep. But when she woke up, she got a "surprise".
In the short clip that appeared on her social media account, Julia shared the moment when she woke up to blue and purple scribbles all over one of her white socks. A child had decided that Julia's foot and her sock would be the perfect surface on which she could draw.
Speechless, the young woman posted the images accompanied by a short caption which says: "I fell asleep with my feet up and when I woke up, an child had scribbled on my white socks". The clip quickly went viral on the web and Julia was criticised by many viewers.
Advertisement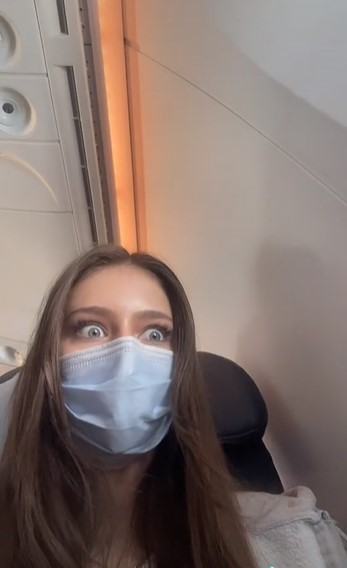 In fact, many users argued that Julia was at fault for what happened, and not the child. Many said Julia was disrepectful to other passengers by taking her shoes off.
"You would have done well to keep your socks in your shoes," wrote one user. Another said: "You are on public transport, after all, not in your own living room"; "If your socks are in others faces, you only have yourself to blame" - and many, similar critical comments were posted.
What do you think of this story and how would you have reacted in Julia's place?
Advertisement