Woman spends $1000 on a wedding dress and decides to wear it to go shopping in as well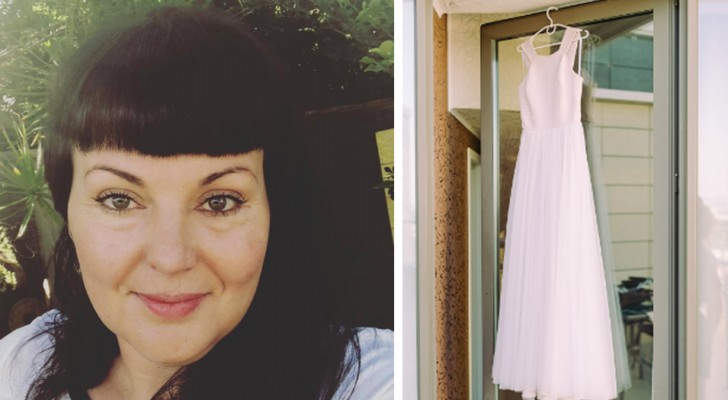 Advertisement
A wedding dress is one of those purchases that are made once in a lifetime - or at least, that's what it is in theory - and item you wear only on one occasion. The cost of a wedding dress is usually significant and you will pay the price to find "the right one, the right size, that fits perfectly". And for such a special day, who doesn't want the  "perfect" dress? Tammy Hall, 43, who is married to conductor Karen Frost, decided she wouldn't waste her beautiful wedding dress on one important day and she decided to wear it… all the time! Tammy paid $1000 dollars for a dress, and she was determined to get her money's worth.
Advertisement
Budget-conscious and sustainable lifestyle advocate, Tammy Hall, wore her custom-made lace wedding dress to her wedding in 2018. For a full year before the big day, the woman hadn't bought any new clothes or shoes to save on money. And when it was time to choose her dress, she wondered if $1000 dollars was much.
"Eventually, I decided that if I bought an expensive wedding dress, I'd make sure I wore it more than once," Tammy said, revealing her plan. "I've worn it to do go to basketball games, go fishing and even climb around in a mud-filled crater," she added.
It's true that Tammy spent a considerable amount on a single dress, but she's getting her money's worth. Tammy has been filmed all over the place wearing her wedding dress: on a train, in the gym, at a sporting event... in short, everywhere!
"The dress cost around $1800 (£985) total," she said. "I first met the tailor about four months before the wedding, and maybe 20 times after that," Tammy said, explaining how she had her dress fitted. She also said her frugality hadn't influenced her choice: "People thought I'd choose something that was 'less bridal' and more of an everyday dress, but I didn't - I chose my dress with my heart,' Tammy stated.
Advertisement
Tammy also pointed out that she didn't feel any pressure to lose weight, like many brides do before their big day. She chose a dress that fits her fuller figure.
Would you ever wear a wedding dress in your everyday life?