Couple take a selfie after surviving a plane crash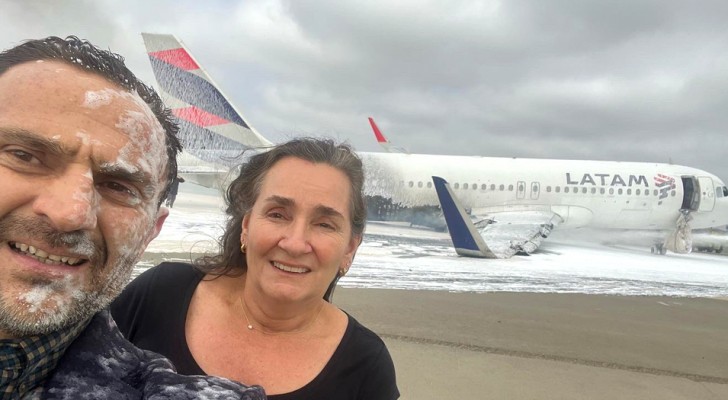 Advertisement
Accidents and tragedies are unpleasant events from which, however, important life lessons can be learned: never take anything for granted. Life is precious, we need to make the most of every moment before it's too late. Plane crashes, for example, are every traveler's nightmare and are the main reason why many people are very afraid of flying. The truth is that very few walk away alive from a plane crash and when crash happens, the story is bound to make the news. And that's exactly the case in this story.
Advertisement
At 15:30 on Friday November 18, 2022, a plane crash occurred at Jorge Chávez International Airport in Lima, Peru. As a plane was taking off, a fire truck crashed into it. It seems that the whole incident was the result of a terrible mistake during a fire drill. During the drill, the truck turned onto the runway. Unfortunately, the impact killed two firefighters, Angel Torres and Nicolas Santa Gadea, but the passengers and crew of flight LA2213 were unhurt. One couple even took a selfie after surviving the crash, showing the damaged plane in the background: this photo quickly went viral on the internet. Enrique Varsi-Rospigliosi, who we believe to be the man in the photo, posted the image to his Twitter account accompanied by the following caption:
"When life gives you a second chance".
Advertisement
Some commented that the selfie was insensitive towards the relatives of the victims, while others commented that perhaps the couple were just happy to be alive.
"This could have been a major disaster. Everyone on the plane was extremely lucky," commented one user, while another added: "I feel sorry for the firefighters who died in this accident. They put their lives at risk every single day to save others." At the moment, the investigation into the incident is still open. We sympathize with the families of the victims and breathe a sigh of relief for those who survived.
Advertisement