Father doesn't know how to pay $749 for his 2-year-old daughter's plane ticket, but a stranger intervenes: "I'll pay for it"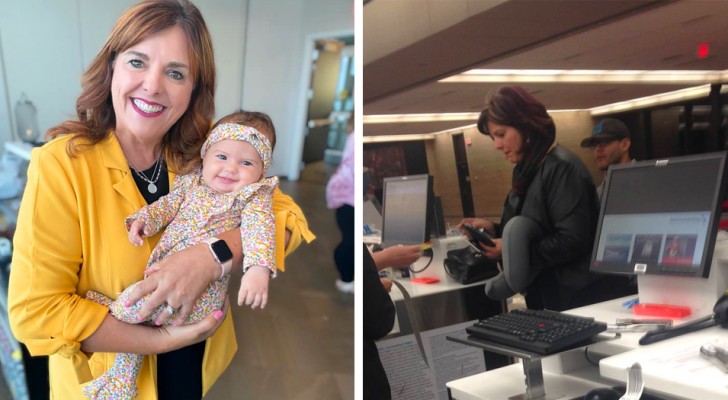 Advertisement
Very young children can travel by plane and often do not even have to pay for a ticket because of their age. However, each airline can decide the age limit at which a child can travel for free. The subject of this story was convinced that his two-year-old son was exempt from buying a ticket, but he was wrong and, unfortunately, he only discovered this a few hours before boarding. The real problem was that this father could not afford the extra cost. Luckily for him, a woman who witnessed the scene, intervened to help him.
via CBS News
Advertisement
When this father reached the airline check-in counter at an Omaha, Nebraska, with his daughter in his arms, the desk clerk asked him how old his little girl was. He replied that his daughter had just turned two and clerk asked for her ticket. The man had been sure that his daughter could travel for free, given her age, but he was wrong. He was devastated as he could not possibly afford to buy another ticket on such short notice. "He stepped aside and tried to make some phone calls. By hugging his daughter and pulling his head, you could tell he was heartbroken," said an airline employee, Kevin Leslie, who witnessed the scene.
But then, a small "miracle" occurred: a woman stepped forward and offered to pay for the child's ticket. The woman, a complete stranger, said: "I want to buy her ticket." "You know how much the ticket will cost, right?" the surprised clerk asked the woman. "Around $700?" the woman guessed. "$749 to be precise," confirmed the clerk. Despite the cost, the woman bought the child's ticket.
The father embraced his benefactress and asked her for an address so he could return the money, but the woman said: "Don't worry about it". Neither the young father nor Kevin established the identity of the woman until the story was made public. Someone recognized the woman and identified her as Debbie Bolton, the co-founder and global head of sales of Norwex.
Debbie Bolton went on to say that she simply "did what anyone else would do" and that she never expected her gesture to have had so much impact. That said, Debbie says she hopes her action can inspire others to do the same.