A grandfather can't go to his granddaughter's wedding: she travels 1200 km to dance with him in her wedding dress (+VIDEO)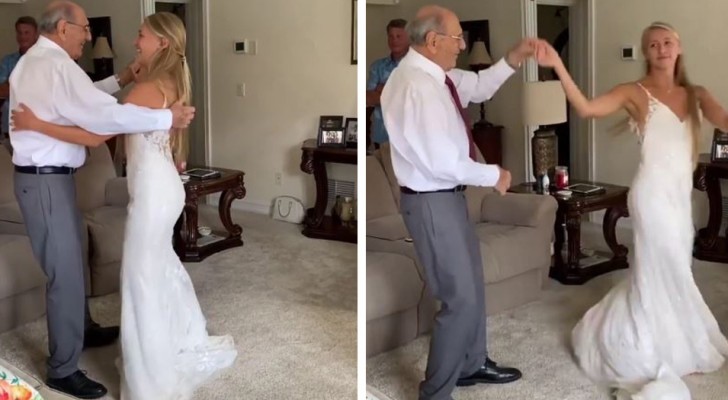 Advertisement
A wedding day is a very important moment in a person's life and this is why most want to have their loved ones with them on their special day. But unfortunately, this is not always possible. This is what happened to Natalie Browning, 24, an American bride who was unable to have her 94-year-old grandfather at her wedding. But this young woman didn't give up: she flew 1200 kilometers in her wedding dress to have her "first wedding day dance" with her beloved grandfather.
via Facebook / Natalie Napolitano
Advertisement
Natalie was very sad when she learned that her beloved grandfather, Nelson, would not be able to make the journey from Florida to Virginia to attend her wedding: Nelson had not been felling well just before the big day. For months, Natalie had been looking forward to dancing with her grandfather at her wedding reception, but his poor health did not allow him to travel.
Determined to see him, Natalie therefore chose to surprise her grandfather by catching a plane to see him - in her wedding dress! The beautiful bride documented her journey in an emotional video, where she is seen leaving her house in the early hours of the morning, proudly showing off her packed wedding dress to the camera.
Advertisement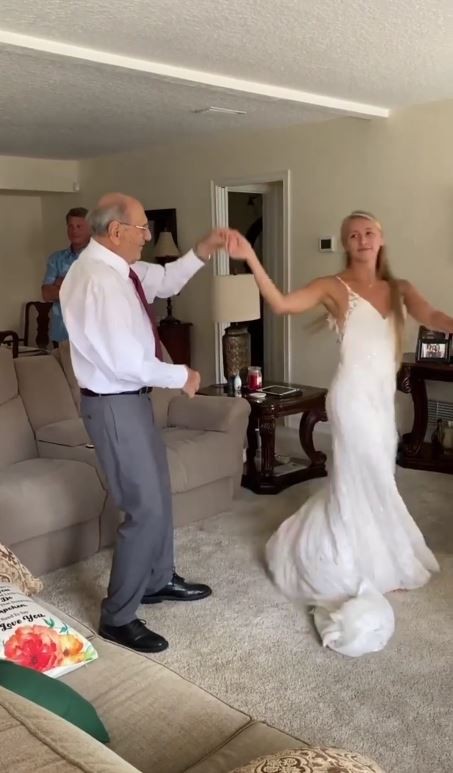 Facebook - @natalie.napolitano2
The video shows Natalie walking through the airport and boarding a plane. On landing, she stops to do her make-up and then boards a large SUV to go to her grandfather's house. Whilst in the SUV, Natalie slips into her wedding dress. On arrival at her grandfather's house, Nelso is completely stunned. After recovering from the shock, the two dance around the living room in a truly touching moment.
"Getting the wedding dress to the airport was hard, to say the least, but it was worth it when I saw my grandfather's incredible reaction. He had been looking forward to dancing with me at my wedding for months and I'm glad I could make this dream come true," Natalie said.
A magical and touching moment, don't you think?
Advertisement