Waitress chats to a customer and tells him about her life as a single mom: he gives her a $ 1000 tip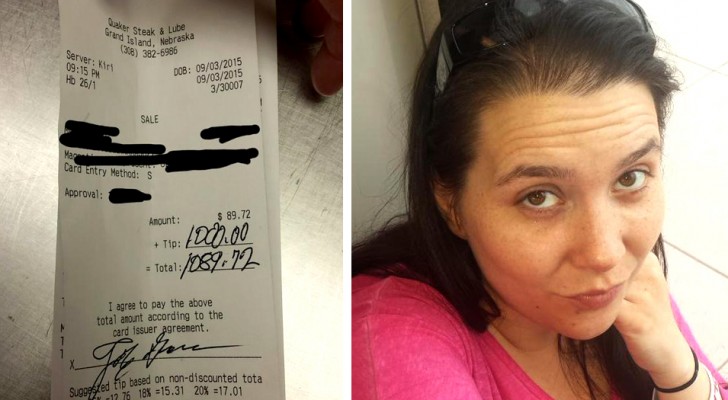 Advertisement
There are people who enter our lives unexpectedly and manage to do something special to change the course of our day or just to give us a smile. These are men or women who, perhaps, we will never see again, but who, of course, we will always carry in our hearts and in our thoughts.
The woman we want to tell you about knows something about this. A mother of three and a tireless worker, she was lucky enough to meet a very special person who did a wonderful thing for her.
via Indipendent
Advertisement
Kari Anthony is a single mom who works as a bartender at Quaker Steak and Lube in Grand Island, Nebraska. One evening, while she was on duty at work, she met a truck driver who had stopped there to eat and drink something. Tired from work the man entered the restaurant and, after ordering, started chatting with Kari.
"I didn't know him, I just told him that he could put all his purchases together and pay for them when he left". From there the conversation moved on and the two found themselves talking about their lives, family and their loved ones. The truck driver told stories about his mother, while Kari told him about her three children and her life as a single mother. Perhaps, touched by Kari's story, the man decided to do something special for her.
Advertisement
When it came time to pay the bill, not only did the driver pay the $90 for his dinner, but he left a $1,000 tip for Kari. "I couldn't believe it. I asked him several times if he was sure he wanted to give me such a large tip. Usually truck drivers leave a tip of $5 dollars at the most. I was stunned," she said.
The driver insisted on giving Kari the large tip and the only request he made was for her to use the money to do something special for her children. And this, Kari did. The whole family went to a show in Nebraska which they never would have been able to do due to a lack of funds.
But that's not all. It turned out that the truck driver had paid for dinner for all the people with whom he had exchanged a few words during the evening. He was a true gentleman who spared no expense in order to cheer up the people around him.
Let's remember him and his gesture: it's moments like these and people like this truck driver that make the world a better place.
Advertisement