Woman paints her front door bright pink; the neighbors protest: "We're not in Disneyland"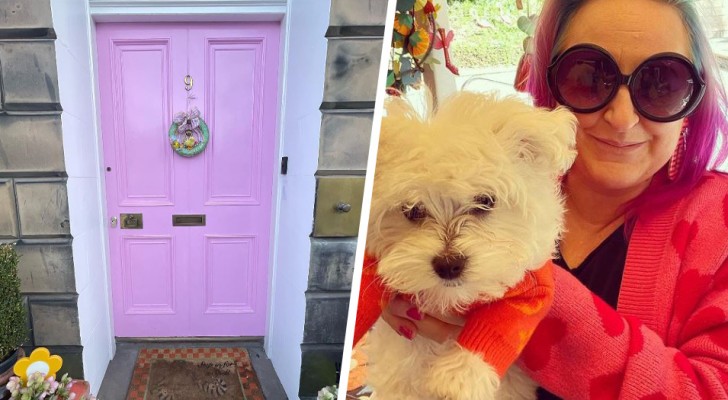 Advertisement
There is nothing more satisfying than owning your own home and furnishing to your liking, even if - more often than not - you must respect certain rules. Ms. Miranda Dickson, a 48-year-old mother from Edinburgh, Scotland, with two children to support, found this out at her expense. The woman risked getting a very hefty fine of 20,000 euros for having painted the front door of her house pink. The house is located in the New Town, in a street dotted with Georgian houses and is considered to be a UNESCO World Heritage Site since 1995 (and is therefore governed by strict aesthetic rules).
via BBC
Advertisement
There are specific municipal regulations that establish what changes can be made to the properties in the area. Notwithstanding this, Miranda criticized the city for its "outdated" rules. The house was inherited by Miranda in 2019 from her parents, but the Edinburgh City Council designers objected to the pink door, insisting it be painted white. Ms. Dickson, however, thinks this demand is "mean". "In fact, my pink door often attracts the attention of passers-by, with many Instagram users stopping to pose for a photo in front of it," commented Miranda.
But her neighbors don't think the same. Bill Giles, 86, said his neighbor's pink door is a "truly awful" color that "doesn't fit" into the neighborhood's aesthetics: "We're not in Disneyland, it's in bad taste," said Mr. Giles. Apparently, the City Council of Edinburgh supported the protests and stated that the pink door "is not in keeping with the historical character" of the protected area.
"There are cities in the UK like Bristol, Notting Hill and Harrogate that are very colorful. Coming home and seeing my front door gives me a lot of joy, I'm proud of it. It's my home, and I should be free to decorate it as I please", commented Miranda. However, the municipality has sent her a letter that she must repaint the door in a more suitable color, which must be "understated and soft". Ms. Dickson said the letter stated that her door was "bright pink", but it is actually light pink. "The letter instructs me to paint it white, which goes against the guidelines for a dark, muted color. It's ridiculous," Miranda noted.
Now, Miranda says she intends to repaint the door a dark red. What do you think of this story? Is Miranda's pink door in bad taste?