Woman gets a tattoo of her ex-partner's face on her cheek after he cheated on her: "He will come back to me"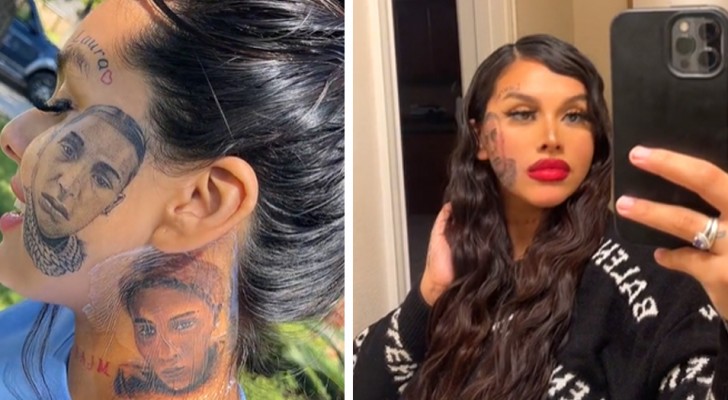 Tattooing the name of a loved one or a child on an arm, for example, has become very popular recently. The world of tattooing is so vast that almost anything can be turned into a tattoo. What is certain, however, is that a tattoo is basically permanent - which is why it is advisable to choose a tattoo that has the same, core quality: permanence. A partner's name is something one might be emotionally attached to, but a relationship could end at any moment, but the tattoo will remain. And this is why tattoos of this nature are not recommended. But the subject of this story did something much more extreme: she has a tattoo of the face of her ex partner on her cheek and neck!
Advertisement
Narally Najm got a portrait of her ex-partner's face tattooed on her cheek and neck. And there is a reason why her partner is now her"ex": Narally discovered that her ex, Laural, had cheated on her. Additionally, Laural had cheated on Narally whilst she was pregnant with their son, King: "I thought we were the perfect family. I gave him a child, we bought a house and everything seemed wonderful ... but then I found out that he cheated on me."
Narally was very upset by Laural's betrayal. Eventually, he apologized and promised it would never happen again. But Narally rejected his apology: "After she gave birth, Narally caught me cheating and I told her it won't happen again. She has not forgiven me yet and I don't know what else I can do about this. At this stage, I am done with Narally and will not be going back to her," said Laural.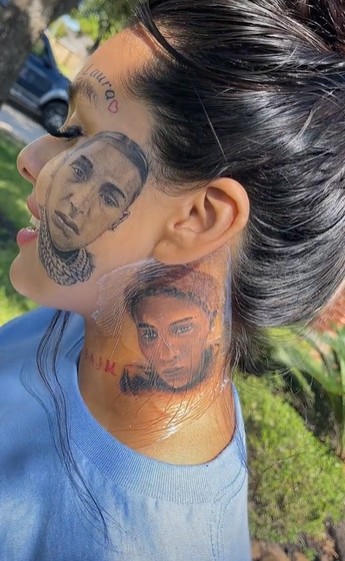 Narally must have changed her mind later, however, because on her TikTok account, she appeared in a video sporting a new tattoo of Laural's face on her cheek and neck. The video was captioned: "He will come back". Of course, her followers have expressed some concerns about the whole affair and how this young woman has acted. Narally claims that those who criticize her are "jealous" and that Laural "will come back to her in the end". In response, one viewer wrote: "I assure you that we are not envious, we are only worried about you". And who wouldn't be?
Would you ever get the name or the face of someone you love tattooed on your body?