Mother puts dinner on tinfoil to avoid washing the dishes: "The children ate everything!"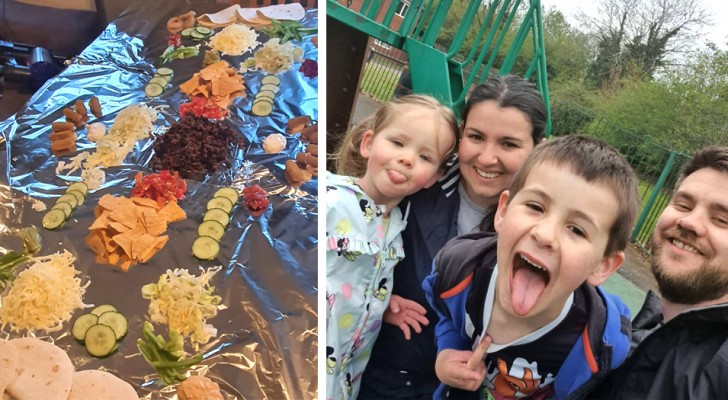 Advertisement
One of the most tiring and tedious household chores is washing the dishes, especially when you do not have a dishwasher. Unfortunately, it is a chore that has to be done. Everything becomes even more tiring after a long day of work, the cooking of dinner and taking care of the children. So, that's why the mother who is the subject of this story came up with a really clever plan to avoid having to wash the dinner dishes and, at the same time, keep her children and her husband happy.
via Facebook / Rebecca Cubberly
Advertisement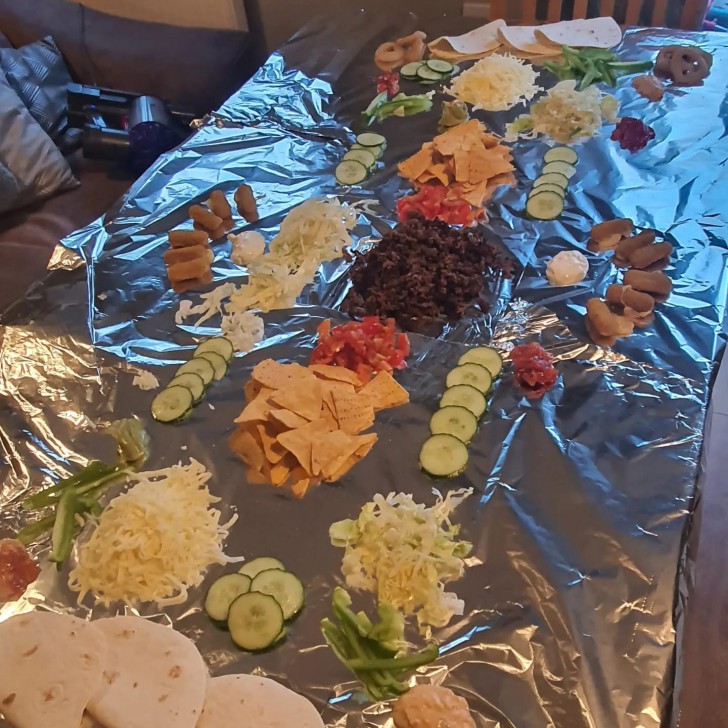 Rebecca Cubberly is a 28-year-old mom from Telford, Shropshire, and came up with a plan to avoid washing the dishes by hand after dinner. Being very tired, one evening she decided to organize a somewhat unorthodox dinner: instead of serving the food on the usual plates, she covered the table with a layer of aluminum foil and placed the various dishes directly on top. From the photo she posted to a Facebook, one can easily see that the family ate Mexican food that night. This method was perfect - not only because it saved Rebecca from doing the dishes, but also made her children and husband happy because of the novelty.
"I usually spend about half an hour cleaning up after a meal like that," commented Rebecca. She continued: "That's a lot of time, especially after having already spent a lot of time cooking, after a long day". Who wouldn't agree with this mom?
The tinfoil dinner worked so well that Rebecca states she will do it again - perhaps dedicating the evening to some other food, like pizza. In this way, Rebecca able to save some precious time: "I have the extra time that I normally spend washing dishes to spend with the children". Moreover, not washing the dishes also means saving on the electricity bill, a consideration that should not underestimated.
Notwithstanding this, there were those who criticized Rebecca for polluting more. Rebecca replied that she recycles the used tinfoil. In addition, this mother is convinced of the success of this method: her children ate everything, right down to the last bite! "They had a great time. You can take your kids out for dinner at a restaurant and it would cost you £ 50, while this only cost me £ 5. We had as much fun as we would if we went out! " Rebecca stated.
Would you try this unorthordox dinner service with your friends and family?