Sporty mom is criticized for being too masculine: "You have more muscles than a man!"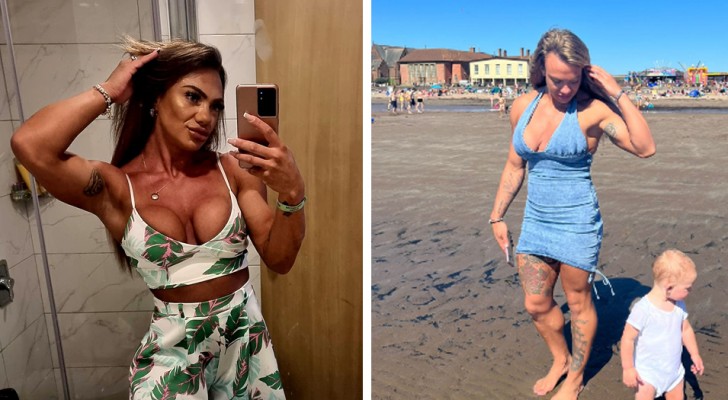 Advertisement
Women who go to the gym usually all have a single concern: avoid "getting too many muscles" and looking like a man. The truth is, to get your muscles like this, it's not enough to go to the gym two or three times a week and do some weight training. It takes dedication and only professionals who know how to do this. Adele MacGillivray, the subject of this story, is one of those women who knows exactly what she wants and what is best for her body. So, it is too bad people won't stop criticizing her.
via The Sun
Advertisement
Adele is 28 years old and is a young mother who started her path in the world of fitness almost by accident. For her, it became her main passion, and weight-lifting in particular. She slowly fell in love with sport and also with Robbie, a personal trainer who has remained with her to this day. Today, Adele is a professional competing in major tournaments, yet despite her perfect physical shape and sculpted muscles, people often criticize her. Of course, her body is very muscular - much more than that of any sporty woman who keeps fit - but this is her personal choice. Many people, however, continue to criticize her for her masculine appearance: "Do you really think this look is attractive?" or even, "You are more muscular than the average man."
Obviously, no one likes to be criticized, and Adele was hurt by these cruel comments when she was younger and less confident. Today, however, she is much happier and she enjoys her sports career and her role as a mother: the two things, in fact, are not incompatible and she is very keen to emphasize this. "I no longer worry about what others think, I do it because I really love this sport," she said.
To those who do not consider her to be feminine she replies: "I am very feminine. I love my eyelashes, my extensions and my tan. Above all, I am a mother who wants to show that to be a good parent, it is not necessary to give up one's passions".
Congratulations and well said, Adele!