For 9 years this woman tried to have a baby, with no joy: "We have now adopted 2 boys and we will do the same for their little sister"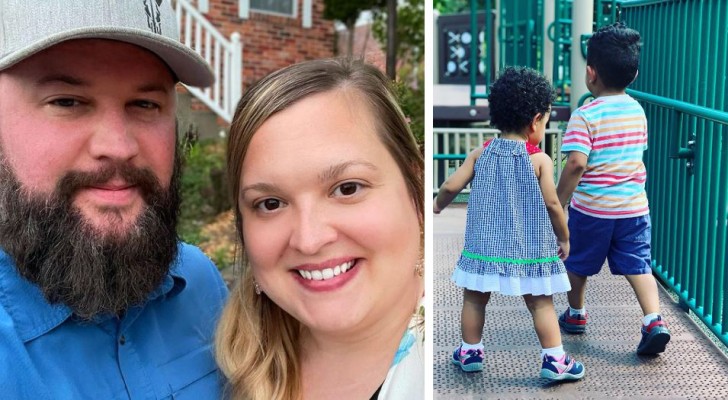 Sometimes, having a baby is not east: natural pregnancies can be difficult, and for this reason, many people resort to fertility treatments to fulfill their dreams of becoming parents. Sarah and Shane Buchanan of Pittsburgh, Pennsylvania, USA are well aware of this. This couple who in vain for years to have a baby, until they decided to try adoption. Sarah, a nurse who worked in a neonatal ward for a few years, had seen up close many couples adopting kids. So, Sarah and Shane decided to follow suit.
via Lovewhatmatters
Advertisement
After witnessing the happiness of adoptive parents, something stuck Sarah: "I was struck by the understanding and compassion the adoptive parents showed for the biological parents and how they did not judge them. Maybe the child would stay for a few months in the case of fostering, maybe a year, or maybe forever. Whatever the child needed, the adoptive parents were ready to do whatever it took," she explained.
"During one meeting with adoptive parents, my heart melted and I opened up to the prospect of also helping a child in need. I was so focused on cycles and hormones that I lost sight of what I really wanted," admitted Sarah. What she wanted was much more than just a pregnancy: she wanted to have a family. So, after nearly nine years of trying to conceive, Sarah and her husband have decided to become adoptive parents - while continuing to try to have a biological child. Six months after being certified for adoption, the Buchanans got the call they were waiting for: two brothers waiting for a mom and dad. With hearts in their mouths, the two immediately replied that they were ready to take care of the children.
Despite having adopted two lovely children, Sarah still longed for a child of her own: a girl rather than just two boys. Part of her felt guilty for harboring such thoughts, while another part of her didn't want to give up the prospect of falling pregnant. Later, Shane told his wife that he heard that the biological mother of the children was pregnant again with a girl. After confirming the news, a social worker asked the Buchanans, "Would you be willing to take this baby too?" After recovering from the shock, Sarah and Shane replied that they were.
Over time, the Buchanans have built a loving and supportive family, where their adopted children are the center of their lives. In July 2019, the couple were finally able to hold a little girl in their arms, Sarah's much-desired wish was granted. After three years, the couple officially became their full, adoptive parents: "We were delighted to welcome a new member into our family ... we are hoping to be able to keep this family of siblings together forever! My arms, once empty, are now full of the blessings I've always dreamed of," commented Sarah.