Woman gives birth to triplets on different months and different years: they are identical, but they do not share the same birthday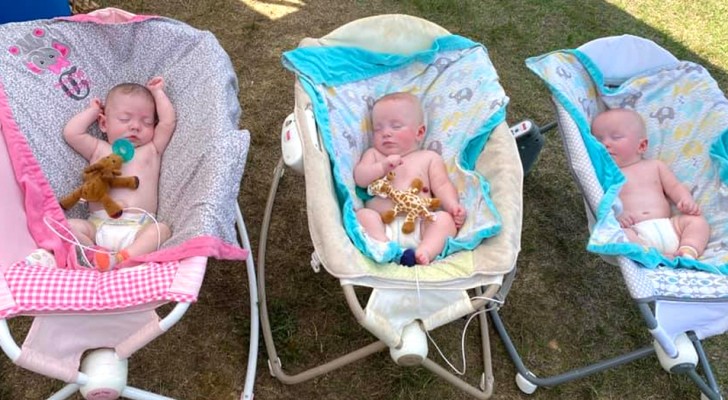 There are couples who really try hard to have children, as they can't wait to become parents. It is not always easy, and although many couples eventually decide to adopt, there are others who continue to keep trying. The couple who are the subject of this story, for example, did not have much luck until they resorted to in-vitro fertilization. This step allowed the couple to have not one, but three children (nearly) simultaneously!
Here is their incredible story:
via Youtube / Guinness World Records
Advertisement
Kaylie DeShane longed to have a naturally-conceived baby, despite the fact that she and her husband Brandon had already adopted Holden, a seven-year-old boy, and also having a 12-year-old stepdaughter, Naveah. After many failed attempts to get pregnant naturally, the spouses decided to resort to in-vitro fertilization. Doctors told the couple that there was a ten percent chance that Kaylie would give birth to twins, while others predicted the possibility that there was a chance for a triplet pregnancy. And, indeed, this is what happened. But doctors warned that the birth would be difficult and the babies would be born premature. For this reason, specialists advised Kaylie to give birth to only one of the triplets.
Kaylie and Brandon, however, decided to take the risk and give birth to all the babies. Kaylie gave birth to the first of the triplets on December 28, 2019, little Cian. The doctors advised the mother to keep the other two babies in her womb for as long as possible, as they feared the consequences of all three babies being born prematurely. So, Kaylie became the first woman in the world to have given birth to identical twins within a 5-day range. Between the end of 2019 and the first days of 2020, little Rowan and Declan also arrived in the world: although the little ones struggled during the first months of their lives, today they are perfectly healthy now!
Advertisement
The uniqueness of these triplets lies in the fact that the two brothers and the little sister are absolutely identical - even if they were born at different times, on different days and, in different years! How many times in life does it happen that triplets do not share the same birthday? It is understandable, therefore, that this news has made the rounds on the web. The most important thing, however, is that all the triples are okay - and now this unique family can continue to enjoy their life to the fullest!