Professor cradles the daughter of one of her students in her arms, to allow the mother to follow the lesson (+ VIDEO)
Being a parent can be wonderful if you wanted to be one, but it is normal for even the most devoted couples to experience difficulties - especially if it is the couple's first child. Not to mention single parents or inexperienced couples that need to continue working or studying, even during the first years of their child's life. In this story, for example, a young student and the mother of a beautiful baby girl, needed to attend lectures but could not find a babysitter. Luckily, her lecturer was very helpful in solving this problem.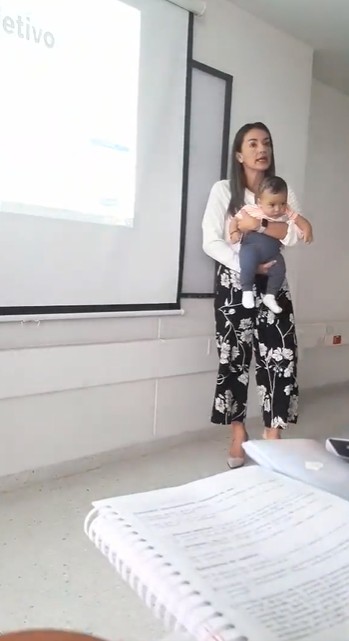 The young subject of this story had to go to university with her little daughter when she couldn't find a babysitter. Once in class, the lecturer - a civil law professor - offered to hold the baby in her arms while she gave the lesson, allowing the young mother to take her notes more easily. A classmate of the mother filmed the tender scene and posting it to Twitter, showing the kind gesture made by the lecturer: "My civil procedures professer takes care of a student's daughter so that she can pay attention to the lesson. A great show of empathy ".
This wonderful gesture was made by Colombian professor, Karen Vega, a lawyer and professor at the Universidad Pontificia Bolivariana (UPB) - one of the most important, private universities in Colombia.
mi profe de procesal civil cuidando el hijo de una estudiante para que pueda prestar atención a clase. Un gran ejemplo de empatia y de superación. ❤ pic.twitter.com/oDvvuM7NYa

— madrid (@blancaquinteroa) August 24, 2022
This is not the first time that a lecturer, professor or a teacher has gone beyond their formal role and, for the sake of their students, reach out to help. In reality, it is about the empathy they have for their students. A good teacher, in fact, should also set an example for others and understand the needs of their students. Karen Vega has shown that she lives up to her profession: most likely, she will remain in the hearts of many of her students.