Family builds a home that provides for all their needs: they don't pay any bills and save $50,000 dollars a year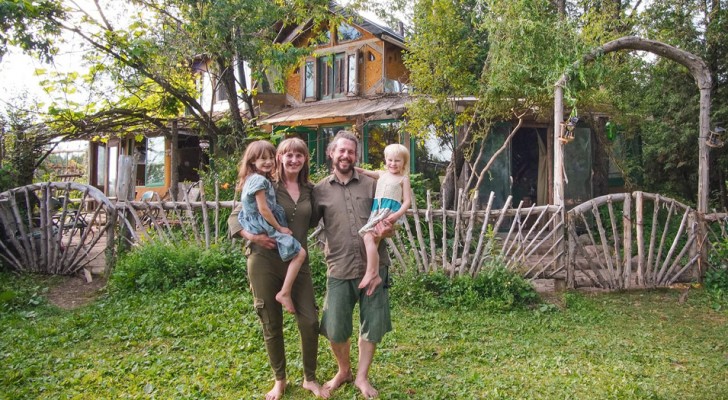 Advertisement
Many people dream of giving up everything and going to live off the grid, perhaps in a country house next to a farm, to live in the wild and enjoy the food grown with their own hands. Well, a Canadian couple worked hard to make this wish come true and live happily in a house made of clay and wood that they built with their own hands. The two say they haven't had to worry about paying bills for more than 10 years, saving around $ 50,000 a year.
via Theepochtimes
Advertisement
Misty and Bryce moved into the woods in Canada a decade and a half ago and are now raising their daughters: 7-year-old Sage and 5-year-old Aurora. They cook food from gather from their garden on a wood stove, get electricity from solar panels and draw water from a well. The couple met while working together at a Hamilton restaurant, but they both quickly realized that life in the big city wasn't for them.
"From the moment we met, we knew we wanted to live an alternative lifestyle. After visiting Bryce's grandmother's cabin in Durham countryside for 54 weekends, we finally moved there in 2006 and fell in love with the country lifestyle. Plus, the idea of ​​being completely self-reliant was really tempting," Misty said.
The couple spent weeks cleaning up the property and making it habitable. After 4 months, they finally completed the eco-sustainable home, made with natural materials, such as clay, sand and straw: it all cost about $8,000 dollars. To make ends meet, Misty and Bryce run a small restaurant business in the local community. Transportation is by bicycle, horses or on foot. Bryce says the reason their family is financially stable despite not having a fixed income is their low-cost, self-sufficient lifestyle.
"We try to be as independent as possible, growing and harvesting all the food we eat," said Bryce. Most of their food comes from their own garden and farm. They occasionally shop, but they claim to only buy a very select range of basic items. Additionally, Misty educates her daughters at home: she teaches them the traditional curriculum with the addition of fundamental woodlands skills such as animal care and building techniques.
"Many spend most of their time working to afford the necessities of life. We, on the other hand, spend our time working to provide for these needs directly. Obviously it is not a life for everyone, but it works for us and we have never been so happy," Bryce commented.
Would you be able to live like this?