Students surprise their teacher by giving him a car: "you will no longer have to wait for the bus for hours"
Those who choose to become teachers are well aware of the responsibility this carries: teachers are role models for their students - points of reference that accompany children for a major part of their schooling. When teachers make their work a vocation, they receive affection and esteem from their students.
A clear example of this is Julio Castro, a high school teacher who commuted by public bus to and from school, sometimes taking more than two hours each way.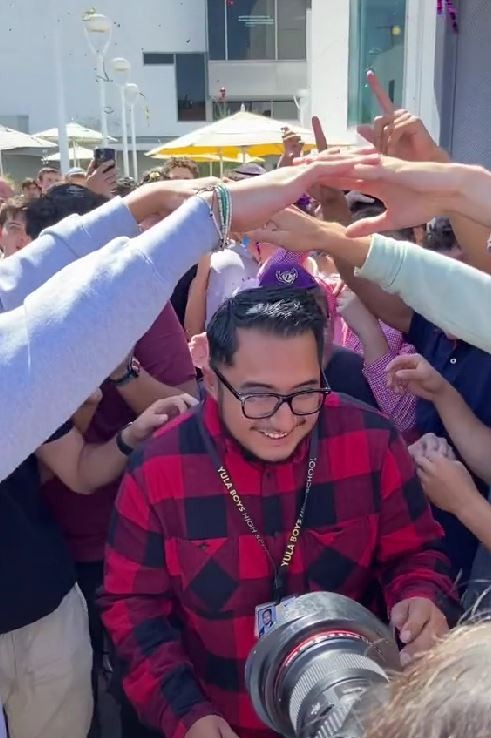 Julio lives in Santa Clarita and the Jewish private school where he teaches at is located about 50 km away, in the Pico-Robertson neighborhood of Los Angeles: "It's about two hours of travel, then it all depends: if I miss the bus, I'll wait for a another half hour or an hour," he said.
Julio's students spent the summer raising more than € 30,000 euros in fundraising campaigns organized by various non-profit organizations. The students used the money to buy a car for Professor Castro. "He deserves it. Professor Castro made sure I understood all his lessons, sitting with me during lunch breaks and sacrificing his time after school when he could have caught the bus to go home," commented Joshua Gerendash, a senior high school student. After purchasing the car, the students organized a school festival to surprise and honor their teacher.
During the event, all the teachers of the school were honored, and received small gifts in recognition of their efforts. When it was Castro's turn, the professor was amazed when he received the keys to his new car: "I am really stunned. Thanks to all my students who are like my children to me. Now that I have a car, I will have more time available: I can use it to improve my lesson plans and I will be able to get home in time for dinner," he said. The students also surprised Castro with one year of free gas and car insurance.
This was a wonderful gesture to thank this special man. Great job, guys!