Bride asks the father of the young woman who donated her organs to her to accompany her to the altar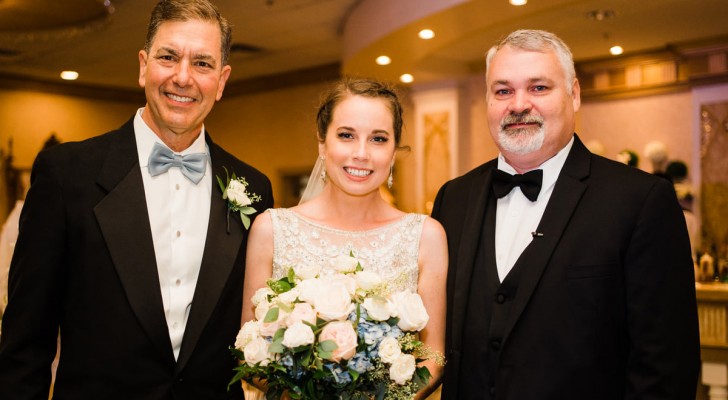 Advertisement
Expressing generosity, solidarity and love for strangers is a wonderful act that is often expressed through organ donation. This type of gesture offers hope to those suffering from serious illnesses, giving them a new lease on life.
The story of Diana Donnarumma Kreher, a young American woman, represents a concrete example of the importance of organ donation. Diana's illness was an obstacle to her realizing her dream of getting married. Diana's future and possibility of marriage were in serious doubt, as the waiting list for a transplant was extremely long. But then, something changed...
via Inspiremore
Advertisement
Diana Donnarumma experienced intense emotions when she walked down the aisle with Daniel Donnelly Jr., the father of her organ donor. Heather Donnelly died in a car accident in Texas in 2017, three days before her own wedding. Her parents decided to donate her organs and eight people were selected from the waiting list, including Diana. In early 2021, Diana wanted to pay tribute to Heather and asked Daniel to walk her half way down the aisle on her wedding day. "I wanted to honor Heather and her dad by doing so," Diana explained.
Daniel couldn't hold back his tears when he saw Diana in her wedding dress and gave her a hug before leaving her with her father, Glen (who walked her the rest of the way down the aisle). The wedding took place at Salvatore's Italian Gardens in Lancaster and was a dream for Diana. "I felt all the emotions in the world: I was happy, anxious, sad for Heather, but immensely grateful because I was marrying the love of my life. I told Daniel that Heather's spirit was there with us and that she was happy. He said that he was honored to walk me down the aisle and that he now has another daughter. I wish people understood the importance of organ donation," she said.
Diana recounted that she had suffered from health problems since she was a child and discovered in 2016 that she had gastroparesis, a disease that prevents the stomach from working properly. After the organ transplant, she felt much better: "Beforehand, I was physically and emotionally exhausted all the time, but now I have a future," she said. "Without Heather I would never have gotten married," Diana explained.
Daniel later said: "These two are a wonderful couple. I wish them all the best of luck. I know Heather is watching us and I imagine her being very happy. Diana is a sweet girl, she has a heart of gold and she calls me dad. She says, 'I have two dads now.' I'm very pleased". What a beautiful way to honor Heather's life and legacy.