A penniless child can't buy a football sticker album, so he designs his own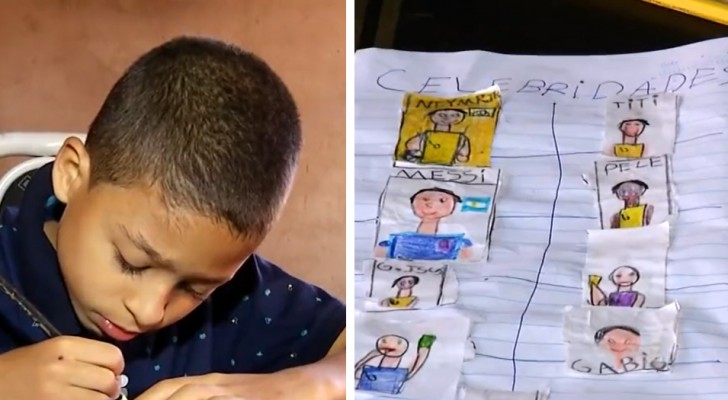 Advertisement
How many of you as children collected football cards and stickers? Sticker albums have always been a blast for the little ones and, in particular, the annual one for footballers. Especially boys who dreamed of becoming professional players when they grow up, eagerly collected the stickers in hopes of completing an album - a very difficult achievement. Unfortunately, however, the purchase of stickers and the exchange of duplicates with other fans is not a pleasure that all children can indulge in. There are families in which the economic situation does not allow for such a "waste" of money. That's why this little boy has put all of his imagination into creating his own sticker album.
Advertisement
João Gabriel Nery dos Santos, an 8-year-old Brazilian boy from a poor family has a very vivid imagination: he only needed some paints, paper and a pair of scissors to make an album of footballers' stickers from the 2022 World Cup. The boy's father, João Teixeira, certainly couldn't afford the real thing: a proper sticker album would cost him more than half of his salary. Of course, this little dreamer's father couldn't hold back his emotions when he saw his son's handmade album: "There is no way not to get emotional. My happiness is so great that I'm speechless to have a son with such creativity".
Advertisement
It didn't take long for this child's story to go viral, kicking off an incredible show of solidarity. The many users who became aware of the moving story, wanted to teh child a real sticker album, in order to make his dream come true. Even Brazilian goalkeeper Cássio Ramos made a video with the young, football-loving "artist". Of course, the long-awaited sticker album eventually arrived and it was his mother who gave it to him; in a video, posted on Twitter, it is possible to witness the reaction of the child. João Gabriel was delighted with his gift!
A round of applause for the imagination of this boy who, despite the obvious economic difficulties of his family, never stopped using his imagination and, above all, chasing his dreams. Bravo Gabriel!
Advertisement