11-year-old girl meets the bone marrow donor who saved her life
Becoming an organ donor is an incredible act of selflessness, but it's not an easy decision to make. However, when this is well thought out and implemented, it allows another person to live a second life and - in some cases - creates an incredibly special bond between the donor and the recipient - as is the case in this touching story.
Laila Anderson was only nine and hospital visits were a part of her daily life. After 16 months of tests and two misdiagnoses, the little girl discovered she had isolated Primary Hemophagocytic Lymphohistiocytosis of the central nervous system. This is an extremely rare autoimmune disease that caused her body to produce too many immune cells, which were attacking her brain.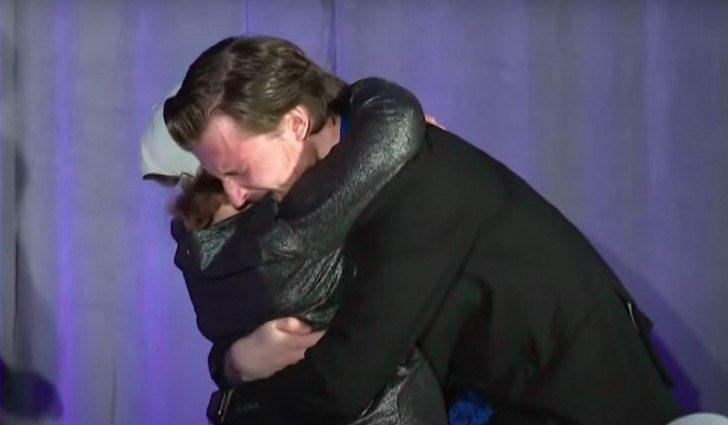 "She was a healthy child until one day our whole world turned upside down," said Heather, Laila's mother. The little girl is only one of 15 children in the world who have this disease - which has made it even more difficult to diagnose. "Basically my white cells can fight bad things, but they can't stop fighting. So my immune cells started fighting each other," explained the young girl.
On October 16, 2018, she started chemotherapy. It took her 10 weeks of treatment to prepare for her only hope: a bone marrow transplant. At this point, she just had to wait for a donor. Enter Kenton Femlee, a general practitioner who was inspired by his father - who suffered from a similar disease that damages the immune system - and by his high school teacher, a bone marrow donor. These experiences inspired him to become a donor too.
"My past has really influenced me to do my best to try and change other people's lives so they don't have to go through what my father and family have been through," the man said. So he joined a donor register. In 2019, Kenton received the phone call that changed his life: he could help a 10-year-old girl, Laila.
On January 24, 2019, Laila received the donated marrow. After a period of recovery, the little girl has returned to having a normal life. "Now I am like any other child. I am a sixth grader. I go to school five days a week. The only thing I would say is different from everyone else is that I take some medications and do blood tests once a month," Laila explained.
On December 5, 2019, during a special event in St. Louis, Laila and Kenton met for the first time. Before this, both families had exchanged numerous letters, already forming a special bond. As soon as they saw each other, they embraced emotionally. It was a touching moment that was recorded in a video that moved the web.