Woman divorces her husband because she falls in love with her 23-year-old adopted son: she recently announced the arrival of their second child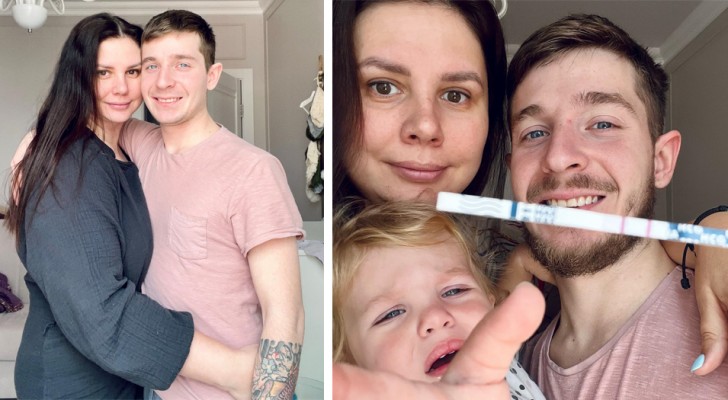 Advertisement
That love knows no bounds, is true. But the relationship between Marina Balmasheva, a well-known Russian influencer, and her stepson, Vladimir Shavyrin, has caused a lot of criticism and controversy. It certainly doesn't happen that we hear stories like this every day: the 37-year-old Russian divorced her husband Alexey, to start a new life with her stepson Vladimir. From this union, Marina has already had a daughter and she did not hesitate to announce her second pregnancy to the whole world. Of course, Marina's first husband is not at all happy with how things have turned out.
via Mirror
Advertisement
Marina Balmasheva became famous on Instagram for sharing her attempts to lose weight. The woman today boasts more than 600,000 followers, but what has made her even more famous is her unorthodox relationship with her 23-year-old stepson, Vladimir Shavyrin. Marina and Alexey adopted five children soon after they got married, but now this family seems to have be split asunder. After discovering her romantic love for Vladimir, Marina got divorced and started her new life with her adopted son, Vladimir. Marina's ex-husband claims that her relationship with her stepson started while all three were living under the same roof, but Marina denies this.
Vladimir and Marina have already had a daughter named Olga, and on August 10, 2022, the influencer announced her second pregnancy on Instagram. As you can imagine, the criticisms were quick to come; many advised her, for example, to start putting on a lot of make-up, given the large age difference between the couple.
Marina has always worried about her weight - so much so that is known to have lost almost 50 kilos. Despite all the criticism, she claims that Vladimir loves her for who she really is and that it was her wonderful personality that seduced him. It should be noted, however, that Marina had Vladimir signed a prenuptial agreement, as a precaution, just in case this second marriage ends in divorce too. True love or not? Tell us what you think in the comments!