Woman postpones her wedding because she suspects her fiancé is cheating: he denies this, but is caught later with his pants down
When a couple plans their wedding they intend to have a fairytale life afterwards, the famous "and they all lived happily ever after", and "forever" story (or myth, as some might say). However, as a movie title wisely states, "Love Is Eternal While It Lasts" (a 2004 romcom) and not everyone who decides to get married does so with the best of intentions. A woman learned this harsh truth and she posted a video to TikTok in which she revealed the moment she caught her now ex-fiance red-handed while he was "in the company" of a work colleague on their wedding day!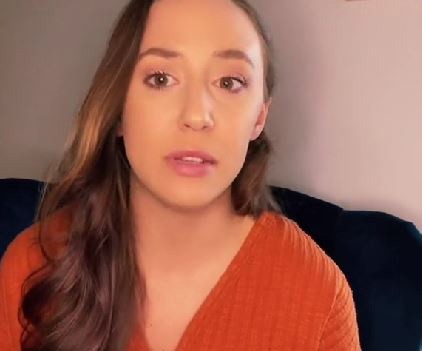 In a series of videos posted on TikTok, Kirsten Morgan, an American poet, said she was ready to marry her fiancé in September 2017, but revealed that in the days leading up to the wedding, "there was something wrong". She explained: "We went out with our work colleagues a lot, but there was something not quite right about one of the woman my fiancé worked with - they seemed too close." Morgan then decided to ask her future spouse about his relationship with this female work colleague, and when she did, he called her "crazy" explaining that "there was nothing going on between them".
Five days before the wedding, Morgan's fiancé said they had to postpone the event because she "didn't trust him enough." The poet revealed that she felt as if her life was "falling apart" but, after talking about the situation with family and friends, she was told to calm down as "there was nothing to worry about." After all, she was about to get married, wasn't she?
"I just couldn't shake the feeling that there was something wrong, I just felt it, I knew it," Morgan said, adding that she had agreed to postpone the wedding. The two decided to stay together and to "work on their trust issues". Five days later - on what would have been their wedding day - Morgan opened the door to the house her fiancé had bought for them. "He was already living there and I stayed with my parents: I was going to move in after the wedding," Morgan explained.
"When I walked in, he was completely naked," she said. "He asked me what I was doing there and I looked down, noticing some women's shoes on the floor: I knew immediately that he was with his work colleague." In fact, in the room, she found a pile of clothes with the woman's underwear and a note that they had written up for their "future life together". The femaile colleague, who was also married, said to Morgan: "We are in love. I am leaving my husband and we will be together."
Morgan later found out that the two had been in a relationship for months and revealed that during the time her fiancé had been cheating, she had been right when she felt that something was not right between them. "It was a very, very dark time. I had been manipulated ruthlessly and everyone told me I was losing my mind. But honestly, finding out - as bad as it hurt - was a relief because I said to myself 'at least I'm not crazy.' My instincts told me that something was wrong and I was right ". Over time, Morgan dealt the pain and channeled her energies into writing poetry: "he made me a more empathetic person." The woman also revealed that her cheating rival returned to her husband and broke it off with her now ex-fiancé.