He is 55 and she is 26, they have a daughter and are very happy despite criticism: "Are you the father or the grandfather?"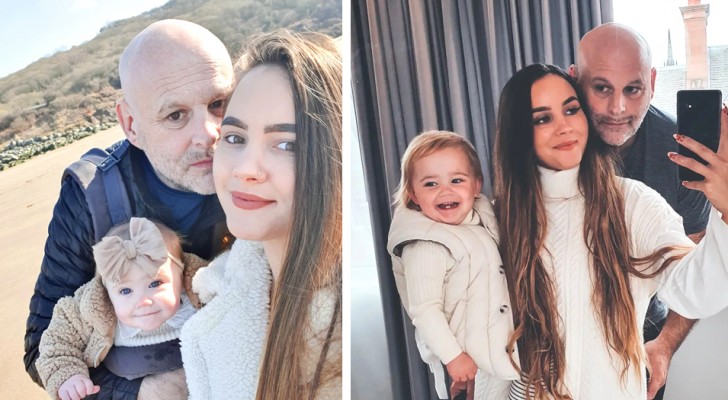 Advertisement
Public opinion is always very divided when it comes to considering age differences in a relationship: there are those who argue that age is just a number; on the other hand, there are those who just can't conceive of a relationship where the age difference between the couple is vast. Lauren Kerr and her partner Anthony Shaylor don't care too much about these matters, however, and have moved on in their relationship, following their hearts. Anthony is a 55-year-old man, while Lauren is 26, - but this significant age difference hasn't stopped them from pursuing a beautiful romance, as well as having a beautiful baby girl. Now the two are planning their wedding and having their second child.
Advertisement
The beginning of this couple's relationship was unusual, as Anthony worked as a bouncer in a club and his first meeting with Lauren was in 2017, just after a fight at the club (in which Lauren was involved). The fifty-five-year-old had to accompany Lauren out of the club, and she immediately fell in love with the man. This was a highly unusual encounter, and their subsequent love story - despite all the criticisms it has received - is still solid and undamaged. Later, finding themselves working in the same company, the two got to know each other much better and they fell in love. The rest is history, as they say.
Although the couple is not immune to the disapproving and judgmental looks they get (may mistake Lauren for being Anthony's daughter when they are out), the two have never stopped loving each other and say they are very happy with their lives together. They don't mind having the 29-year age difference, and fortunately, their respective families are of the same opinion. Ultimately, it is strangers who are most disturbed by their love story, which many considered "inappropriate".
Lauren admits that she has had some difficulty dealing with the cruel comments from people, while Anthony has never allowed himself to be affected by the judgments of strangers; however, the young woman has learned over time not to be disheartened by those who obviously know nothing about her.
Advertisement
In short, for Lauren the significant age difference between her and her partner is a small detail that fits harmoniously into the grand scheme of things, and she argues that no one should be influenced by negativity from others. If two people love each other, they should try to be together regardless of their age difference. "If you don't give your romance a chance, how do you know what it has to offer?" Lauren offered up as food for thought.
And what do you think about this topic?