Spouses use the money for their wedding to build a school for African children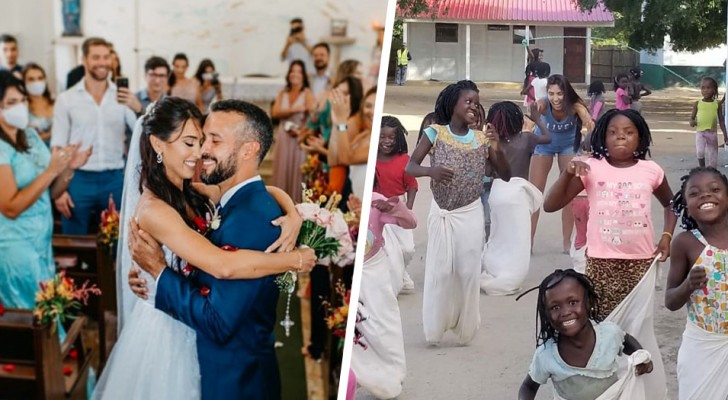 Advertisement
When Taina Pessoa and Renato Marques, both originally from Brazil, decided to get married, they started making all the preparations for a traditional wedding: the church, the guests, the reception, the honeymoon, the dresses, etc. Over time, however, they realized how much money they would have to spend on the celebration and considered it ridiculous: they therefore chose to cancel the event and use the money to help those in need.
via Campanhadobem
Advertisement
Taina and Renato used the money they had saved for their wedding on a humanitarian project to build a school in the Mozambican village of Matuba, Africa. The goal was to reach € 40,000 euros ($ 42,000 dollars) to build a structure capable of accommodating 300 school children. The project came about as a result of a volunteer mission of the humanitarian organization Fraternity Without Borders (FSF) in Mozambique in which the couple had decided to participate. Spending a week in Africa, the two were struck by what they saw in the country.
"It changed our outlook on life", commented Renato. "It's a great culture shock. The locals are grateful for the very little that they have. I have met old people who have never laid down on a bed. Yet they all sing, dance, share, respect and have hope". The condition of a building that was used as a school for the inhabitants of Matuba shocked the couple: "The wall was made of plywood, the classroom furniture was all broken, there was no bathroom, no electricity, no structure to speak of," the couple remembered. From this visit, came the idea of ​​using their wedding budget to help the locals, along with launching a fundraiser describing their story in order to encourage other people to do the same.
"Our hearts could not rejoice in celebrating an expensive wedding after realizing that with that same amount of money, we could change the lives of thousands of children," said Taina. In the end, the couple still got married, but in an intimate and very simple ceremony. They did not make a gift list, but asked the guests to donate the money they would have spent on them on the charity project. In this way, the guests were also able to contribute to the project in Africa.
Many people of the internet liked the initiative so much that even after the wedding, the newlyweds continued to receive donations from those who chose to contribute to the noble project. In a world where it seems "necessary" to organize lavish weddings, the initiative of this couple took cannot fail to impress.