Bride offers up her $ 3,000 wedding dress: "I want to give it to those who want it but can't afford it"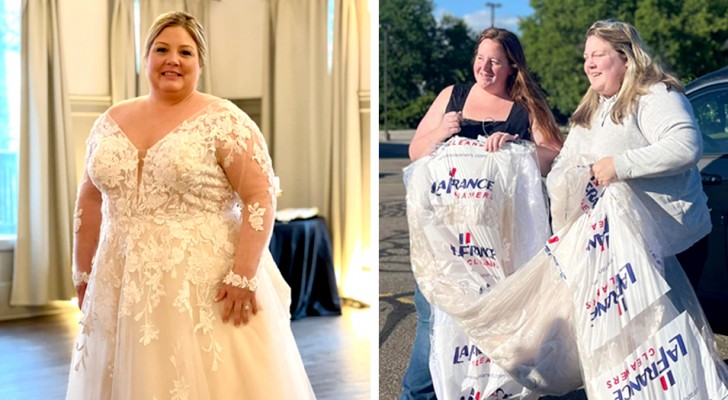 Advertisement
What is the one thing that engages a woman the most when organizing her wedding? Every future bride will have her answer, that's for sure, but we can imagine that a good percentage would site the choice of the dress. This item of clothing that, on the wedding day, will make one feel like a real princesses and will give one, together with everything else, unforgettable emotions and memories. And this is just what happened to the woman we want to tell you about in this article.
Gwendolyn Stulgis devoted herself completely to finding the right dress to wear and to feel comfortable wearing and, after much searching, she found it. But that's not what made her famous on the web. In fact, after getting married, she decided to give her wedding dress away as a gift. Let's find out why:
via Business Insider
Advertisement
Gwendolyn married her partner Frank Stulgis on May 6, 2022 and wore her beautiful champagne-colored dress, which wrapped her in lace and beads. After much research, fittings and visits to different shops, the woman found her dream dress and, although she had planned to spend only $ 1,000 dollars for it, she did not want to let it go and ended up spending a good $ 3,000 dollars. Such an expensive item could certainly not remain locked in a closet after the wedding, so Gwendolyn decided to do something important for both herself and another person.
"After thinking about it a lot," she wrote in a post on Facebook, "I decided to give my dress away as a gift. It is not fair that such a beautiful dress ends up being locked in a closet and never seen again. I want another woman to have a dream dress, even if she can't afford it financially. I want another future bride to feel as I did on the best day of my life: wonderful." And this was an idea that this woman has turned into reality and into a sort of "competition". Whoever wanted, could apply to get Gwendolyn's dress, but she had to give at least two reasons as to why she wanted it and to respect two conditions: get married within 3 months from receipt of the dress - and to give it away after the wedding.
The responses to Gwendolyn's offer were numerous and the winner was a woman named Margaret Hyde. This future bride had applied to receive the gift, not knowing that someone had already done it for her: her sister-in-law. Since Ms Hyde was very hesitant about whether or not to send her message, her sister-in-law, Ashely, had done it for her. "Margaret is a wonderful person, she would do anything for others and usually it is she who gives things away,": a message that touched Gwendolyn's heart and led her to Margaret as the winner from the many applicants.
Advertisement
Upon receiving the dress, Margaret said she felt very lucky. She loved it and she can't wait to wear it at her wedding ceremony. Apparently, Gwendolyn's idea worked very well and, for this reason, she didn't stop there. In fact, she decided to create a web page dedicated to sharing dresses - not only for brides, but also for bridesmaids, best men and so on. And this action inspired many people to follow her example and to give an opportunity to those who do not have the means to make their dreams come true and wear a fairytale dress on their special day.