Couple accidentally invite a stranger to their daughter's baby shower: they receive a gift from her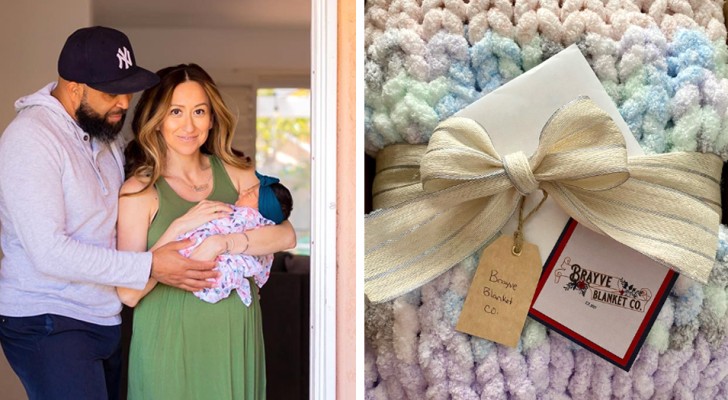 Advertisement
Not infrequently it happens that we receive calls and messages from wrong or unknown numbers, but in most cases these errors are quickly forgotten or dealt with expediently. Seldom does such a mistake translate into a new friendship developing with a complete stranger. But that's exactly what happened recently to a woman from Indiana, USA. Ms. Angela White had received an invitation to attend a baby shower - a party to celebrate the imminent arrival of a baby - but without knowing who the parents-to-be were (and who were based in California, USA).
via Western Journal
Advertisement
Angela immediately realized that the invitation she received via SMS had arrived by mistake, but she couldn't get rid of the feeling that she should do something nice for the future parents out of her head. "Every time I thought about it, I said to myself: I didn't get that message by chance. I don't know why, but I was convinced that there was a reason why I received the message and an invitation to the baby shower," said Angela.
It seemed like a twist of fate, especially since the woman, who is also the wife of a military man, runs a business called "Brayve Blanket Co.", where she makes and sells super soft woolen blankets - which are particularly suited for a baby. What better way to celebrate the arrival of a new baby than to send them one, Angela thought? "I couldn't make that feeling go away, so I packed up a blanket and sent it to the future parents," continued Angela.
When the couple - Candace Countryman and David Amastae - received the package in the mail, they thought it must have come from their distant relatives in Indiana. "My stepfather sent me a message with a photo of a package addressed to me and we thought this was the one that had arrived at our home," Candace said.
"It's weird because I had no idea who 'Angela' was, but since the return address was in Indiana, where we have relatives, I thought someone from the family had sent a gift for Luna, my baby. I told my mom to open the box. Inside was a blanket for Luna. Then my sister unfolded the blanket and saw that there was a postcard attached. " In fact, Mrs. Angela had attached a greeting card where she congratulated the couple on the happy event and she explained that she was the accidental recipient of an SMS invitation to attend the baby shower for the little baby.
Impressed by this generous gesture, Candace immediately tracked down the woman to make her acquaintance. Soon after, she shared the unusual episode on a Facebook page which reviews Angela's business, Brayve Blanket Co. - obviously, Candance was very positive in her comments.
Destiny has a strange way of connecting people, don't you think?