Man sees someone on TV who looks like him and has the same surname: he discovers he has a brother
Sometimes life confronts us with such bizarre coincidences, it can lead us to believe in the existence of a "predetermined fate". This story is a clear example of this. On an ordinary day, Mr. Randy Waites turned on the television to watch the local news.
Meanwhile, Eddie, 54 - who lives in Anaheim - was spending Christmas in the Lake Tahoe area with his family and was engaged in a snowball fight with his son when a local news crew stopped by to interview him for a weather report.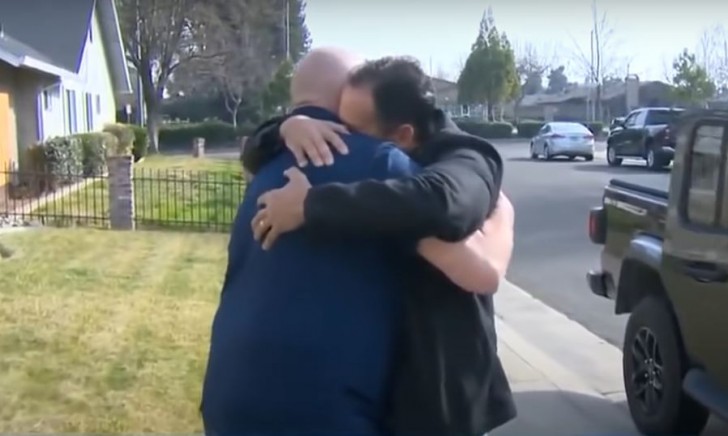 Randy saw Eddie on the TV and couldn't help but notice how much this stranger standing in the snow looked like him. During the snowfall report in Lake Tahoe, Randy also noted that the person (Eddie) who was being interviewed bore his own last name. Randy, who grew up without his father and without even seeing a photograph of him, was intrigued. He wondered if Eddie's surname - Waites - and the similarities of their physical characteristics were some kind of link. He asked his daughter to search for the man in the interview and the young woman found Eddie's phone number. Furthermore, she discovered that the two were linked by more than just a shared surname, but were, in fact, brothers: they had the same father.
"I wasn't looking for him and he wasn't looking for me. We didn't even know that the other even existed, so the way we found each other is absolutely incredible," explained Randy. "After this discovery, I screwed up my courage and called Eddie. We talked for over an hour - it was as if we had been friends for 20 years."
The two eventually decided to meet in person for the first time, along with their respective families and with a TV crew to film the encounter that changed their lives. "Where have you been all my life?" Randy said when he first laid eyes on Eddie. After many hugs, the two began to get to know each other. "We got to know each other quickly and I introduced him to my family," explained Randy, who invited Eddie and his wife to come stay with him and his family for the weekend.
During their time together, the two brothers found out that they both love fishing and riding Harleys - just like their father, Donald E. Waites. While Eddie did grow up with his father, Randy didn't: "I never knew him," he stated about his father, who passed away in 2009.
As a child, when Randy asked his mother about his father, she told him that he died shortly after he was born. "If our dad were still alive, he'd be thrilled to know his kids have finally met," Eddie commented.
An incredible and truly emotional story!