92-year-old grandmother vows to live long enough to see her great-granddaughter: the photos from the event are touching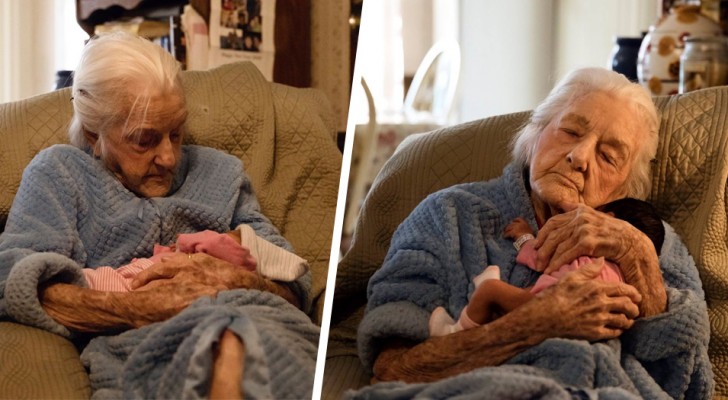 Elderly woman, Jean Roper, 92, of Trussville, Alabama, USA was close to death. The woman suffered from severe kidney failure that had forced her to be confined to bed for months. She even needed the help of oxygen tanks to breathe, and the doctors had told the family to prepare for the worst. It was a blow to the family, and especially for her granddaughter, Tracy.
via People
Advertisement
"The doctor told my grandfather and uncle that she only had three weeks to live," said Tracy, 24. "It was very difficult for all of us to imagine that we would lose her. She has always been the heart of our family." Soon after the prognosis, Jean learned that Tracy's sister, Amber, was pregnant with a baby girl who would bear her name: Magnolia Jean. The elderly woman already has several grandchildren and great-grandchildren, but they are all boys (Tracy herself has two boys). The 90-year-old was so happy about the idea of welcoming a baby girl into the family, that she vowed to stay alive until the baby was born.
"Her energy increased. She was completely different. She was so excited to see the baby coming. Knowing that she would soon have a great-granddaughter was like medicine for her," continued Tracy. On January 31, Amber gave birth to little Magnolia Jean.
Tracy was at her great-grandmother's house when her sister showed up with the baby. "She jumped out of her wheelchair, and wasn't hobbling at all! Previously, she had a walker and could barely get out of bed. Yet, on the day the baby arrived, Grandma Jean walked out of her bedroom to the hallway and back to the front door to greet everyone - it was extraordinary!", commented the young woman.
Tracy is a professional photographer and she immortalized the moment of the meeting between the great-grandmother and the little one, and then shared it on Facebook. "Her transformation was so amazing that I couldn't help documenting it. It was an emotional moment for everyone to grandma holding the little girl in her arms," commented the young woman.
Advertisement
"It helped me not to think about how weak and sick I felt and I thought she was the most beautiful little girl I'd ever seen. She was so small and every part of her was just perfect," said Jean. The photos have gone viral and in the meantime, her great-grandmother's health has improved to the point that she recently celebrated her 75th wedding anniversary with her husband Edward.
The story and the photos shared on the web have emotionally moved thousands of people, making us reflect on how sometimes love can really help to overcome the greatest of challenges.